Euro-Area Exports Drive Rebound After Record Recession
Angeline Benoit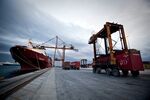 The euro-area economy returned to growth in the second quarter after a record-long recession, driven by a rebound in exports from the 17-nation currency bloc.
Gross domestic product rose 0.3 percent from the previous three months, in line with an Aug. 14 estimate, the European Union's statistics office in Luxembourg said today. From a year earlier, the economy shrank a revised 0.5 percent. The European Central Bank forecasts a 0.6 percent contraction this year before the region returns to growth in 2014.
Gathering momentum in the euro-area economy has boosted equities, with the Stoxx Europe 600 Index up more than 5 percent in the last two months. Economic confidence soared to a two-year high in August. Yet record unemployment is proving resistant to Europe's improving fortunes and inflation has been below the ECB's 2 percent ceiling for seven months.
"There is some encouragement as most components of growth -- exports but also consumption and investment -- show some improvement," Jonathan Loynes, chief European economist at Capital Economics Ltd. in London, said by telephone. "Figures for PMI and retail sales give some hope the second quarter wasn't a one-off, but it's still a modest recovery that falls a long way short of the growth rates needed to address the region's fiscal problems."
'Extended Period'
ECB President Mario Draghi said on July 4 that the euro-area economy should "stabilize and recover in the course of the year, albeit at a subdued pace." The same day, Draghi said the Frankfurt-based central bank would keep rates at the present level or lower for an "extended period" based on a "subdued" inflation outlook.
The ECB will keep its key interest rate at a record-low 0.5 percent when the Governing Council meets tomorrow, according to a Bloomberg News survey of 56 economists.
Exports rose 1.6 percent in the second quarter from the previous three months, while imports increased 1.4 percent, today's report showed. Consumer spending rose 0.2 percent and government spending gained 0.4 percent.
Europe's biggest construction company and operator of toll roads, Vinci SA, said yesterday that the decline in its operating and net income for the full year should be less pronounced than during the first half.
"We're at the early stages of an improvement after a prolonged recession that has been very painful, particularly in euro periphery countries," said Robert Wood, an economist at Berenberg Bank in London. "Growth probably won't be strong enough until the end of next year to start to make a dent in unemployment."
Retail Sales
Carrefour SA, France's largest retailer, last week reported a 4.9 percent increase in first-half profit, as a revival in its domestic market more than offset the economic difficulties of southern Europe.
A separate report today showed euro-area retail sales rose 0.1 percent in July from the previous month. Economists had forecast a 0.2 percent increase, according to the median of 20 estimates in Bloomberg News survey. From a year earlier, retail sales were down 1.3 percent.
"We have reason to be confident," European Commission President Jose Barroso said in a speech in Brussels yesterday. "The European Union is showing its resilience in extremely difficult times."
Yet Barroso warned that Europe isn't "out of the woods. This is not the time for complacency," he said.
Before it's here, it's on the Bloomberg Terminal.
LEARN MORE