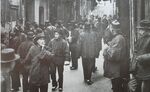 Strolling down one of the major drags in San Francisco's Chinatown, such as Grant Avenue, is like entering a universe that revolves around tourist paraphernalia, all T-shirts, carved jade, and possibly offensive tchotchkes. The oldest and largest Chinatown in America hasn't completely lost its charm – it still has plenty of social clubs, authentic restaurants, and on weekends you might catch a group of locals practicing on traditional instruments. It's just enough to make you wonder what the place was really like, back in the day.
Well, David Rumsey of the Rumsey Map Collection has the answer: San Francisco's old-timey Chinatown was really, really cool. Or rather, cool to think about: In reality, it seems seedy, exploitative, and possibly dangerous. (Which is how many of the city's white residents viewed Chinatown at the time – see the author's note below.) First, have a look at what's around Grant Avenue and Sacramento Street today:

A real-estate broker, a State Farm insurance office, Citibank, conveyer-belt sushi joint, hair salon – all fairly standard stuff for 2013. Now take a gander at the same intersection in this fantastic map from 1885, which notes it was "[p]repared under the supervision of the Special Committee of the Board of Supervisors" when Mayor Washington Bartlett was in office (north is to the right):

That is six gambling dens in just two blocks of Dupont Street, renamed after the 1906 earthquake to Grant Avenue. One of them, squished between 710 and 712, appears to be hidden up or down stairs in a building's core. Who needs Reno with all this?
And we're just getting started. The 600 block of Dupont had an "opium manufactory" that stocked additional "merchandise," which I'm guessing might be pipes and other stuff one would find in a modern-day head shop:

Houses of prostitution were common enough in the late 1800s that the map included a colorized key to differentiate them. Green indicates "Chinese Prostitution" and blue is "White Prostitution." Look at all this white prostitution!

Other things to note: a "female hospital" existed where today there is a "Chinese newcomers services center" designed to help the poor and recently immigrated; there was a "broom factory"; and cigar shops and joss houses abounded. The latter were temples where residents could pay tribute to various deities and ancestors. There's reportedly only one left in northern California, in Mendocino.
Just another white-prostitute emporium on the corner here, along with Chinese-prostitution bazaars on Spofford Street, another opium den, and a ladies' underwear shop on Stockton Street (a second one operated just a block north):

Stouts Alley (around today's Ross Alley) must've been the gambling district. Also check out the thriving opium economy as indicated by an "opium cooking" business, an "opium resort" you could stumble into next door, and on Jackson Street, an opium "pipe repairer." What more could an opium enthusiast need?

This photo by Arnold Genthe, titled "The Street of Gamblers," shows what Ross Alley was like in 1898:

So what's the deal with all the gambling in this 'hood? San Francisco's Virtual Museum has the answer:
People, generally, have the idea that Chinese are natural gamblers. This is not true. The old-time Chinese visited gambling houses so much because there were so few places of entertainment. In the first place, very few of them were married men. They could not speak English and, therefore, could not enjoy American dramas, dances or games. The only things left for them to do were either to visit houses of prostitution, gambling houses, lottery houses or the Chinese Theatre.
That last sentence explains this incredible block. Sullivan's Alley does not seem to exist anymore – it's now Jason Court between Jackson and Pacific avenues – but a century ago it was the prime spot to score a prostitute of Asian descent:

Chinatown in the 1880s was loaded with these character-filled alleys. The Virtual Museum runs down the neighborhood's delightfully named warrens:
Duncan [Duncombe] Alley is off Jackson Street, below Stockton, and is known as Fay Chie Hong, or "Fat Boy Alley." This was named after a young boy living on the street who, at fifteen years, weighed about 240 pounds. A little way below, on the opposite side of the street, was St. Louis Alley. In the early days of Chinatown there was a large fire in the alley which burned up quite a number of houses. The Chinese, therefore, called it "fire alley," or "Fo Sue Hong."

Opposite Fire Alley was Sullivan Alley, running halfway through from Jackson to Pacific Street. As there was a restaurant in this alley, the Chinese called it "Cum Cook Yen," the same name as the restaurant. Another alley was named "Min Pow Hong," or bread alley, because there was a bakery on it. Brenham Place, running from Washington Street to Clay Street, back of the square, was called "Fah Yeun Guy," or flower street, because of the park. Bartlett Alley, running from Jackson to Pacific Street, just below Grant Avenue, or Dupont Street, was called "Buck Wa John Guy," or the grocery man who speaks Chinese. Opposite this was Washington Alley, known to the whites as "Fish Alley." The Chinese, however, called it "Tuck Wo Guy," after a store on it.
Discover more interesting stuff on the map here, though you might need to create an account to obtain a high-res version.
Author's note: I somehow missed the all-important context explaining why this map was made in the first place, for which AsAmNews is justifiably ripping me a new one. The document dates from a time when anti-Chinese sentiments were running high in California. As Mapping the Nation points out, San Francisco's elders partly drafted this map to identify "individual businesses in order to assess the overall presence and threat of the Chinese to the city." For historical perspective, check out this discussion in Contagious Divides: Epidemics and Race in San Francisco's Chinatown, starting on page 37.