How to Get Burger King's French Fry Burger Right Now
by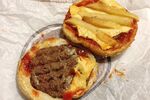 There's much ado about fries pending the arrival of the $1 "French Fry Burger" at Burger King. Starting in September, the sandwich—a burger with four French fries on it, lettuce, ketchup, and mayo, hold the pickles and mustard—will be on menus through the fall. Limited time only!
Except: You can already have this amazing concoction any time you want, including right now. It's not like the stores don't always have fries, and hey, "Your way, right away," right?
Tuesday night I stopped by a Burger King and asked if they would make me a cheeseburger with French fries in it. (I did not identify myself as a reporter.) No problem. The cashier rang up a regular $1 cheeseburger—no extra charge for the fries—and then ran to the kitchen to ask the cook to add French fries to it. That's a photo of the unofficial French fry cheeseburger above.
And it's not just Burger King that will do this kind of thing. Customers have found ways to score cheese fries at Five Guys and nachos at Chipotle. If the restaurant has the ingredients, ask nicely and see what happens. Chains do experiment with new ways to mix the stuff already in their kitchens. This is basically how Dunkin' Donuts took its doughnut-bacon-egg sandwich national—all the ingredients were already there, it was just a matter of training everyone to make it. Perhaps Burger King can come up with creative ways to use the sweet potato fry, too.
Of course, this all depends on the restaurant you're in and other vagaries. When I went, it wasn't busy, so my request wasn't a problem. I imagine if there's a long line of customers, the employees might be less inclined.
Sadly, the taste of the French fry cheeseburger didn't live up to the excitement of successfully ordering it. Potatoes don't have the same pungency of, say, onions. (Burger King has added onion rings to other sandwiches like the Bacon Cheddar Stuffed Burger.) Still, those four fries do add a little something—if only the satisfaction of knowing they're there.
Before it's here, it's on the Bloomberg Terminal.
LEARN MORE