Germany Wants More Truck Drivers
Europe's No. 1 economy is plagued by a shortage of drivers
Richard Weiss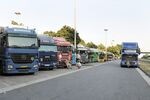 The big trucks that barrel down Germany's autobahn are generally driven by highly trained professionals. The trouble is, fewer young people are opting for a life on the open road. "There's a serious driver shortage in Germany," says Gerard van Kesteren, chief financial officer of Kuehne & Nagel International, which operates 10,000 trucks and trailers and includes BMW and Airbus as customers. "It means we have to pay somewhat more to get drivers. And because the margins are so thin, we have to pass this additional cost on to clients."
Forty percent of Germany's truckers will retire in the next decade, according to a study by car parts supplier ZF Friedrichshafen. The end of compulsory military service has also hurt, since 20 percent of commercial vehicle operators earned their licenses in the army.
Other costs are rising, too. Diesel prices are up more than fourfold over the past decade, and highway tolls for trucks have increased. At Kuehne & Nagel, whose No. 1 market is Germany, the rail and trucking business was its only unprofitable operating unit out of four last year. DB Schenker, the biggest trucking company in Europe, has launched a radio campaign to attract new drivers and get the attention of high school graduates. Its recruitment literature talks up the "romance" of trucking.
Germany's would-be truck drivers must earn certificates proving they understand customs regulations, are able to practice fuel-efficient driving, and know traffic laws. Securing a license can cost up to €8,000 ($10,700). Truckers caught working without certificates can be fined €5,000. Certification takes three years of training.
The dearth of German drivers has prompted an influx of foreign competitors, with European Union freight companies able to operate throughout the bloc—with some restrictions—since a law change in 2007. The foreign truck companies meet the demand that German transport companies cannot.
Yet both management and workers in German trucking companies say that many foreign rivals compete unfairly, even dangerously. Labor costs in some eastern EU nations average one-fifth the level in Germany, where they can amount to half of trucking companies' expenses. According to EU regulations, drivers from member states in the east can work for three-month stints in Western Europe. Their base pay is as little as €223 a month, with €6 paid for every 60 miles traveled, while veteran German truckers make as much as €2,300 a month. The skimpy pay plan encourages Eastern European drivers to skip EU-mandated rest periods and work as many as 60 hours a week, beyond the regulatory limit of 48 hours.
These drivers tend to live in their cabs on weekends, when heavy trucks are banned from German roads. Parked off the highway, they have little access to sanitation and small chance of a solid night's sleep. They are working in Germany "under nomadic conditions, like migrant workers in China," says Karlheinz Schmidt, president of BGL, a German logistics trade group.
Companies in Latvia are hiring Filipino drivers in what amounts to illegal employment, says Schmidt. EU law, he says, requires a company to seek worthy job candidates within the union before looking outside. BGL has responded to the foreign influx by launching a pilot project to train 12 young people from Spain—where unemployment is 26.3 percent—to fill driving jobs in Stuttgart. In 10 years Germany will be short 150,000 drivers, according to Dekra, an auto parts company. Finding replacements will take more than a pilot project.