MBAs Say Values Matter More Than Money
Francesca Di Meglio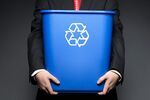 Updated to clarify quote in sixth paragraph.
Money isn't everything for aspiring MBAs.
At least that's the upshot of a recent survey conducted by Net Impact, a nonprofit group that encourages young people to pursue careers in sustainability. Eighty-five percent of the more than 3,300 students who responded to the survey said they would take a 15 percent pay cut to work for an organization with values that match their own.
"I ultimately want to work for a company or organization that recognizes that to survive in the future, all three bottom lines must be equally weighed: people, planet, and profit," says Kate Drummond, a Class of 2015 student pursuing a joint MBA/MS at the University of Michigan's Ross School of Business and School of Natural Resources.
Net Impact's 2013 guide to graduate programs, released Aug. 15, features 108 school profiles and the results of the survey, which was sent only to schools that have Net Impact chapters (although all students, regardless of their membership in the club, could respond). All but 71 of the respondents were MBA students.
Sustainability has gone mainstream, according to the survey. More than 50 schools reported adjusting their curricula to incorporate social and environmental issues in courses, certificates, and experiential learning opportunities. New sustainability degree programs at Audencia Nantes and Clark University and a new course, Starting a Social Venture, at the University of Alberta are among the examples.
"It's no longer just 'nice to have' when MBA programs feature social and environmental themes in their coursework and career services," says Liz Maw, the chief executive of Net Impact. "[Students] are driving the demand for these changes at school and in their future careers." Eighty-five percent of respondents said learning about social and environmental business is a priority for them in their graduate school program, and 91 percent said that social and environmental issues are essential or very important to a business's long-term success.
Still, schools have room to improve, according to student responses. Thirty-three percent said they want MBA programs to provide better career support for those interested in social and environmental business careers. Twenty-nine percent want to see more experiential learning in these areas, while 27 percent say these issues must be integrated into the curriculum.
While students say sustainability is a priority, it's worth noting that the vast majority of MBAs still end up in corporate jobs unrelated to social or environmental concerns, mainly in consulting and financial services. At Harvard Business School, the median base salary was $120,000 this year, according to preliminary figures the school has released. Graduates taking jobs in government or nonprofits earn $30,000 less, on average, than their peers and accounted for just 5 percent of the class, while consulting and financial services combined took more than half of all graduates.
Join the discussion on the Bloomberg Businessweek Business School Forum, visit us on Facebook, and follow @BWbschools on Twitter.