Hamptons Scene: Tudor Jones Rocks With Kravis, Kravitz
Amanda Gordon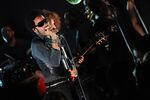 Paul Tudor Jones pulled up Saturday night to the Creeks, Ron Perelman's estate in East Hampton, squeezed into the back seat of a car with Glenn Dubin and their Nordic blonde wives in white slinky dresses.
"It feels like college," said Clear Channel executive John Sykes at the wheel. "I picked them up from the airport and we drove straight here."
Soon the friends had spilled out onto Perelman's patio overlooking Georgica Pond. Questlove was at the turntable. Ellen DeGeneres, Angelica Huston, Joshua Bell, Daryl Hannah, Kyle MacLachlan, Billy Joel, Jon Bon Jovi and Don Johnson were milling around. And Dubin, of Highbridge Management Capital LLC, was talking about going back to college -- yesterday he dropped off his daughter at Harvard.
"This is amazing," said Jones, chief investment officer of Tudor Investment Corp., on his first time at Apollo in the Hamptons, a benefit dinner and concert for the Apollo Theater in Harlem.
Jones joined the Apollo's board last year.
"Of all the boards I've been on, I'd say this is the one I'm doing for fun. I grew up on soul music, and I got sucked in by Dick Parsons."
"It's called doing your homework," said Parsons, chairman of the Apollo, on how he managed to recruit Jones and Perelman, chairman of MacAndrews & Forbes Inc. "Both have an inbuilt love for the Apollo, for different reasons.
Musical Dreams
"Ron because he grew up in Philadelphia as a drummer and his dream was to always get into a band that would come play the Apollo, and Paul who loves rhythm and blues, loves Chaka Khan. He just wants to be close to the music," Parsons said.
Perelman started Apollo in the Hamptons in 2010, hosting and paying for the party, which this year raised a record $3 million for education programs, $1 million more than last year. Top tables sold for $125,000.
Jones enjoyed himself putting on a pair of black sunglasses as Lenny Kravitz sang "American Woman," with the Roots as the house band for the night. Later he danced with his wife -- just inches away from Katie Holmes and Jamie Foxx, who grooved together in more of a hip-hop style.
During a slow song by Ciara, Henry Kravis, co-chairman of KKR & Co. LP, put his arm around his wife. Earlier he'd assured John Hess, a director of KKR, that he'd been working all summer.
Powell's Punk
Past midnight, after some coaxing from Foxx, Colin Powell came on stage, dancing and singing the chorus to Daft Punk's "Get Lucky," with Pharrell Williams singing lead.
That came after Williams sang "Blurred Lines," filling in for Robin Thicke, who was giving his voice a rest in between singing the song Friday at a Time Warner Cable and Lifebeat concert and Sunday at the MTV Video Music Awards.
Other moments to remember: Mary Kate Olsen sitting on the lap of Carlyle Group's Olivier Sarkozy during the concert, near Vito Schnabel and Harvey Weinstein; Representative Eric Cantor, a Virginia Republican, sitting near Ronald Lauder; New York Democrat, Governor Andrew Cuomo and Sandra Lee arriving; The Red Rooster's Marcus Samuelsson, an Apollo board member, touting the tomatoes and corn he prepared for dinner; Mary J. Blige holding court in the living room near an Ed Ruscha gas-station painting; and Darlene Love, featured in the documentary "20 Feet from Stardom," singing Ike and Tina Turner's "River Deep, Mountain High."
First Love
Love said her first stint at the Apollo was in 1963 or 1964, as part of Bob B. Soxx & the Blue Jeans.
"To work in a place of that historic value, I will never forget, I still have pictures," she said. "I still get a kick seeing my white friends perform there."
Huston said how much she had fun on Jimmy Buffett's boat; Carey Lowell described the colors of recent works she's made in her ceramics studio and Joel spoke of a highlight of his summer: meeting the Clintons at a small dinner party.
When the concert ended, guests lingered over pies and bowls of wild strawberries. Jonelle Procope, president of the Apollo, said she loves the benefit because it has just as much excitement as the Apollo. The next big thing there, she said, is "Get on the Good Foot," a world premiere celebration of late singer James Brown by Philadanco, the Philadelphia Dance Company, opening on Oct. 22.
Also in October, Parsons, former chairman of Citigroup Inc., said he'll open his revival of Minton's jazz club in Harlem.
In the goody bag: Green Mountain Coffee Keurig packs; Runa mint guayusa tea, in a package promising "focused energy," and an Apollo coffee mug.
(Amanda Gordon is a writer and photographer for Muse, the arts and leisure section of Bloomberg News. Any opinions expressed are her own.)
Muse highlights include Elin McCoy on wine, Greg Evans on television, James Russell on architecture and Mike Di Paola on conservation.
Before it's here, it's on the Bloomberg Terminal.
LEARN MORE