Nasdaq Shut to Stop 'Information Asymmetry,' CEO Says
Michael P. Regan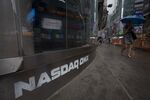 Nasdaq OMX Group Inc. halted trading of its listed stocks for three hours yesterday because a computer problem left some investors without quotes and the company did not want to have "information asymmetry," Chief Executive Officer Robert Greifeld said in interviews today.
The exchange had a constant "open line" of communication with rivals and regulators during the outage, Greifeld told Bloomberg Television's Betty Liu in an interview from Nasdaq offices today.
A faulty connection between the two biggest operators of U.S. stock exchanges brought half of the world's largest equity market to a standstill yesterday, the second time this week U.S. trading was shaken by a computer malfunction.
Connectivity was disrupted between NYSE Arca, where about 11 percent of American share volume occurs, and the data processing subsidiary of Nasdaq Stock Market, home to 2,150 U.S. companies, according to a person with direct knowledge of the matter. That led Nasdaq to freeze thousands of stocks from Apple Inc. to Facebook Inc. that trade on about 50 markets from Kansas to New Jersey for more than three hours.
Greifeld said in a CNBC interview that NYSE was not to blame for the problem and he has not yet briefed his own board of directors on the outage. The company wants to go further with a "defensive driving" approach to making electronic markets more stable, he told both Bloomberg TV and CNBC.
Before it's here, it's on the Bloomberg Terminal.
LEARN MORE