This Travel-Booking Website Loves It When You Call
by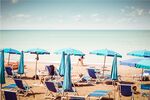 You know the four largest online travel agents: Priceline, Expedia, Orbitz, and Travelocity. The fifth? It's a privately held website with an old-school strategy: live human travel agents available via phone or Web chat. You've never heard of it?
That's one reason Cheapoair.com has been plastering trains, subway platforms, and buses across the New York City metro area with billboards and other marketing touts, hoping to boost its profile and sales in the fiercely contested online-travel market. Stuck on all those posters is an 800-number that puts callers in touch with a real person in India, Canada, or Las Vegas, someone ready to talk about your trip all day, every day. These are "contact center," if you please. Cheapoair executives avoid the term call center, partly because the company doesn't outsource any of the telephone work and partly because its employees also conduct live text-based chats.
"Everyone thinks this is an online, human-less world … and that's not what we do," says Chris Cuddy, chief commercial officer for Cheapoair's privately held parent, Fareportal, who works out of a Manhattan office building that also houses Essence and This Old House magazines. "We're filling a need because others don't do it," Cuddy adds. Plenty of people still want a fellow human for travel booking, particularly when it comes to international itineraries, which tend to cost a lot and involve more complexity than domestic trips. Other online-travel businesses staff toll-free customer service numbers to help when booking through the website goes awry or deal with other travel problems, but those numbers are hardly made prominent—you'll do considerable clicking to find them.
Ironically enough for a 2,000-employee travel agency that touts its telephone capabilities, most of the calls and chats at Cheapoair don't actually involve booking travel. Cuddy said most pertain to people who are starting to plan a trip or need to revise a reservation they made online or through the company's mobile app.
In the U.S., which remains the world's largest travel market, bargain fares are likely to become ever more elusive regardless of whatever happens in the American-US Airways merger litigation. The spate of airline consolidation over recent years has helped carriers cull seat capacity and reduce discounting. That, in turn, could help Cheapoair: The emphasis on those throwback "contact centers" allows the company to procure discounted inventory that airlines won't allow to be displayed on the Internet, says Werner Georg Kunz, Fareportal's chief operating officer.
In some cases, even when you plan to book online, it might pay to ring first. "Consumers will have to become more competitive shoppers," says Mark Drusch, a former executive at Continental and Delta Air Lines who oversees Cheapoair's relations with airlines, hotels, and other travel suppliers.
Although Cheapoair sells the typical array of travel goods—cruises, hotel rooms, rental cars—it maintains a strict focus on airline reservations, a departure from much of the industry's fixation with hotel bookings and the sizable fees they can generate. "We think air is still the first decision," Cuddy said. That focus was one factor in the decision by American Airlines earlier this month to begin selling its Choice Plus and Choice Essential fares and preferred seating products on Cheapoair.com. Those ancillary products had previously been limited to American's own website, part of the huge push by airlines to brand and differentiate air-travel products in hopes of attaining higher prices. US Airways likewise moved its ChoiceSeats option—a revenue-booster in which passengers pay extra to secure a window or aisle near the front—to Cheapoair in April.
The company is closing in on 20 million unique monthly visitors and sees ample room for growth in the U.S. and potential among English speakers in India, China, and elsewhere, Cuddy says. India is the second-largest source of traffic to the site, according to Alexa, which tracks Internet statistics. Cheapoair is also planning to begin expanding its "contact centers" into French (as a way to target the Canadians) and, eventually, Spanish to tap into Latin American markets.
"There are more English-speaking people in China than there are in the United States," Cuddy says. Who knows? They might even pick up the phone again if it means getting a good price.
Before it's here, it's on the Bloomberg Terminal.
LEARN MORE