Wine Collectors Snap Up 2011 Port as '63 Vintage Sold
Guy Collins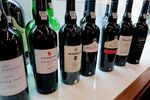 Wine collectors used to Bordeaux at $5,000 or more a case have been seeking variety at lower cost in other regions, including Ports from the newly-made 2011s in the Douro as well as more mature bottles.
Now, as wine auctions resume after the summer break, the focus is poised to switch more to the back vintages. Two cases of Dow's 1963 Port and 12 bottles of Graham's '77 go on sale at Christie's International Plc in London next month, the Dow's with an estimate of as much as 1,000 pounds ($1,560) a case and the Graham's at as much as 600 pounds, according to Christie's.
The sale comes after collectors have been focused in recent months on the declaration by port shippers of a vintage year for 2011. Such harvests are designated approximately three times a decade, based on the quality and aging potential of the wines, with past vintages including 1963, 1977, 1983 and 1992. Ports command lower prices than top red wines while also offering longevity, making them attractive to collectors.
The 2011 ports have "sold particularly well," London wine merchant Fine+Rare wrote in its July report. "Unanimous praise from the critics must account for some of the demand here, though one can't help but feel that this is indicative of a market that is looking for something different."
Even as the 2011 vintage has taken the market spotlight, demand for mature Port vintages has been evident at auctions, with cases of Dow's '63 selling in London this year at 1,092 pounds at Bonhams last month and 1,495 pounds at Christie's in February, according to Liv-ex's Cellar Watch website.
Vintage Cases
A case of Graham's '77 sold at Bonhams in London last month for 517 pounds while three cases of the same vintage fetched between 585 pounds and 702 pounds at Christie's in London in May, according to Cellar Watch data.
While improvements in growing and vinification techniques over the past 20 years, including temperature control in wineries, have increased the supply of grapes with the potential to produce vintage-quality port, producers say the traditional system for designating stand-out years still works well for the market.
"I don't think there's an oversupply of vintage port," Adrian Bridge, Chief Executive Officer of Fladgate Partnership Vinhos SA, said during a visit to London in May for the 2011 sales campaign.
"Quite the contrary, I suspect that, given that a lot of markets around the world are opening up and that people are getting very interested in vintage port again, there's actually going to be a shortage," Bridge said. Fladgate's Port brands include Taylor's, Fonseca and Croft.
Douro Valley
Luis Sottomayor, winemaker for Sandeman Port, described the 2011 crop as "a really classic vintage." Speaking during a visit to the U.K. earlier this year, Sottomayor cited improvements in viticulture in Portugal's Douro Valley for the overall quality of the crop. "I believe we still have only three or four classic vintages a decade," he said.
The historic ports in the Christie's auction, making up the opening lots in the sale on Sept. 12, include wine dating back as far as 1871, when the Franco-Prussian war was ending, and reflect demand from collectors for top brands from classic vintages.
The 1871 port, comprising 10 bottles of Quinta de Louriero, Vinho Velho do Douro, a wood-aged Colheita, is priced to sell for as much as 3,000 pounds, according to the Christie's catalog. At the more recent end of the scale, two cases of Taylor 1992 each carry an estimate of as much as 900 pounds.
Estimate Prices
At a Christie's sale in London in June, two cases of Taylor's '77 sold for 585 pounds each, below the presale estimate, while a case of Warre's '77 fetched 468 pounds including buyer's premium, matching the top estimate, according to data on the auction house's website.
A case of Taylor's '94 sold for 1,170 pounds and 12 bottles of Fonseca '94 went for 1,053 pounds at the same Christie's sale in June, while a case of Graham's 1970 fetched 1,112 pounds, all beating estimates. At a Christie's Amsterdam sale in Amsterdam, 12 bottles of Taylor's 2000 fetched 748 euros ($972).
Muse highlights include Manuela Hoelterhoff on arts, Hephzibah Anderson on books, Ryan Sutton on U.S. food and Amanda Gordon's Scene Last Night.
Before it's here, it's on the Bloomberg Terminal.
LEARN MORE