Best Buy's Price-Shredding Turnaround Is Working
by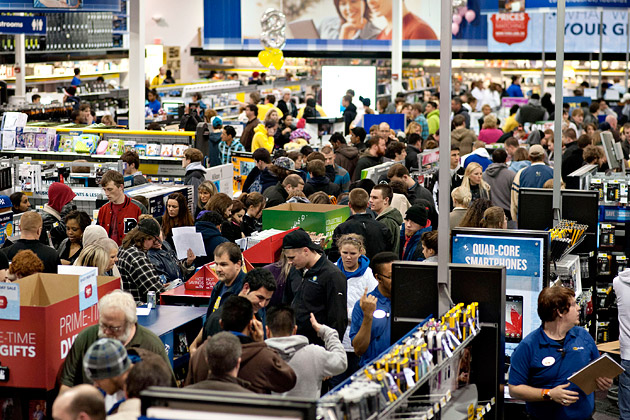 A long-awaited turnaround appears to be taking hold at Best Buy. The electronics retailer on Tuesday reported its best quarterly results in two years, cheering investors who had long wondered whether the sale of TVs, stereos, and other entertainment gadgetry had shifted permanently to the Internet and forever away from big-box retailers such as Best Buy and defunct Circuit City and Tweeter.
Best Buy, at least, seems to have put to rest immediate concerns about its demise. Chief Executive Officer Hubert Joly, who marked his first anniversary at the helm this month, has already managed to cut annualized costs by $390 million and steer the company on a broad restructuring path dubbed "Renew Blue," which seeks $725 million in total savings. The former McKinsey & Co. management consultant is known as a corporate turnaround specialist, and he was hired specifically to address Best Buy's many woes.
Chief among the problems: high prices. By routinely losing the price competition with rivals, particularly online retailers, Best Buy only exacerbated the phenomenon of showrooming, in which consumers use a physical store to peruse products they later purchase from a lower-priced website such as Amazon.com. In the age of the smartphone, the problem has hardly been limited to electronics, yet Best Buy was particularly vulnerable as a result of prices that for many years have been more expensive than those most of its online competitors charge for identical products.
In February, the company said it was making permanent a holiday season trial program that promises to match the prices of 19 online competitors, as well as local stores. The price-match effort also offers a rebate to shoppers if Best Buy lowers its price on an item within 15 days of purchase. Beyond that program, the retailer is working to get prices more in line with rivals' "to eliminate price as an obstacle to buying," as Joly said on a Tuesday conference call with analysts. But that doesn't mean Best Buy will undercut anyone. "We love the traffic on our site, in our stores, and we don't want to lose a customer because of price. But we don't feel that we need to be lower than (the) competition," he said. "We just don't want to be beat."
Also helping Best Buy has been a shift among shoppers toward larger televisions, which cost more and present more attractive profit margins. Among the priciest is a $15,000 model from LG that Best Buy began selling last month, featuring the newest organic light-emitting diode (OLED) technology, and a 90-inch LED model from Sharp that sells for $8,000.
Anthony Chukumba, an analyst with BB&T Capital Markets, called today's results "stunning." Best Buy shares surged 10 percent in midday trading and have gained about 183 percent in 2013, behind only Netflix's 190 percent advance.
Before it's here, it's on the Bloomberg Terminal.
LEARN MORE