Justice Eludes South Africa Year After Marikana Massacre
Paul Burkhardt, Amogelang Mbatha and Mike Cohen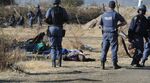 Mzoxolo Magidiwane hobbled on a crutch down the gravel path to his home past the hill where he was shot seven times a year ago when South African police fired on striking mineworkers in their most lethal use of force since the end of apartheid.
"Nothing has changed for this place, for these people," Magidiwane, 25, said at his one-room corrugated-iron shack in the Nkaneng shantytown at Lonmin Plc's Marikana platinum complex, where the violence took place on Aug. 16, 2012. "The truth needs to be known so justice can be done."
No one has been charged in the deaths of 34 people and the wounding of 78. A judicial inquiry into the violence has stalled because victims and their families can't afford to pay for lawyers. Disputes continue over wages at the mine, where three days ago a female shop steward was shot dead.
In the immediate aftermath of the killings, criticism focused on the police and President Jacob Zuma's government and prompted Fitch Ratings, Standard & Poor's and Moody's Investors Service to downgrade South Africa for the first time since the end of white minority rule in 1994. South Africa has the world's largest known reserves of platinum and chrome.
Johannesburg-based Lonmin, the world's third-largest platinum producer, lost about $170 million worth of output when the mine was shut from a walkout from Aug. 10 to Sept. 20. Its share price fell 19 percent during the period. It declined 1.9 percent to 346.80 pence in London.
Union Battles
A judicial commission of inquiry appointed by Zuma a week after the violence was scheduled to end its investigation and produce a final report within five months. The body isn't close to concluding its work.
"It seems to me that a year later, not only those who were immediately affected by the shooting but all of us as a nation still haven't found closure," said Aubrey Matshiqi, a political analyst at the Johannesburg-based Helen Suzman Foundation.
The violence at Marikana, about 100 kilometers (62 miles) northwest of Johannesburg, erupted during a fight for the right to represent mineworkers between the National Union of Mineworkers, which is allied to Zuma's ruling African National Congress, and the Association of Mineworkers and Construction Union, which has displaced the NUM as the biggest labor group in the platinum industry.
Wage Demands
"It's not about NUM or AMCU; it's about money," Magidiwane said in the Xhosa language as the electricity at his home flickered on and off. From a shoe box he produced a copy of his letter of employment showing a 4,250 rand ($428) monthly salary.
Magidiwane, who got a job with Lonmin in 2011 to transport oxygen tanks to miners underground, had been on strike a year ago with thousands of workers to demand more than a doubling of wages.
In the week before the shootings, 10 people were killed at the mine, including two police officers and two security guards. On Aug. 16, police trying to disperse protesters opened fire on a crowd and later said they were acting in self-defense after coming under attack from people armed with machetes, pistols and spears.
New wage talks in the platinum industry are set to start over the next two months. AMCU has already asked gold companies for a basic wage for underground workers of 12,500 rand, identical to the increase it asked for at Lonmin last year, before the killings.
Massacre Legacy
"We believe a new but volatile order for labor relations is developing in South Africa's mining sector," Mark Rosenberg, an Africa analyst for New York-based consultancy Eurasia Group, said in an Aug. 7 note. "Government efforts to stabilize the sector through pacts have failed, while law enforcement is constrained by the legacy of last year's massacre."
If the commission, headed by retired Supreme Court Judge Ian Farlam, can complete its work, that can help bring stability to the mining industry, according to Lonmin.
"The outcome of that process is important for all of us to understand how we can make sure that doesn't happen ever again," Natascha Viljoen, Lonmin's head of processing, said in an interview on Aug. 8. "We are concerned that Farlam is taking a bit of time."
Zuma, in a statement yesterday commemorating the anniversary, said the mining industry is vital to the economy, Africa's biggest.
Commission's Integrity
"It is therefore necessary that all stakeholders work together to stabilize the mining sector and strengthen it to withstand the current difficult global economic conditions," he said.
The commission started with a budget of 25 million rand and testimony is interpreted in three of the local languages -- Xhosa, Sesotho and Tswana -- for victims' families, some of whom have traveled hundreds of miles from the Eastern Cape province to attend the hearings.
"I've lost faith in the integrity of the commission because it seems the police are favored over the miners who died and those who survived," Xolani Mzuza, 27, the only income earner from a family of four who survived the Aug. 16 shooting, said in an interview in Marikana. "Our lawyers have not been paid, but those representing the police and army are paid for by the government."
The hearing was moved to Pretoria, the capital, in June after it was delayed repeatedly because the Rustenburg Civic Centre where they were scheduled to be held was often unavailable. It has been suspended since July 22 when a lawyer for the families petitioned the commission for a postponement so he could seek money to pay for the families' legal fees.
"There hasn't been a single cop who was actually there who has been interviewed and cross-examined at the Marikana Commission of Inquiry," Bonita Meyersfeld, a law professor who heads the University of Witwatersrand's Centre for Applied Legal Studies, said in an interview.
"There has been harassment of witnesses. The community has lost faith in it," she said. "I think that's an out and out failure."
Before it's here, it's on the Bloomberg Terminal.
LEARN MORE