Made-in-Canada Solution For BlackBerry Avoids Nortel Fate
Hugo Miller and Andrew Mayeda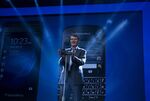 BlackBerry Ltd.'s decision to consider takeover offers is fueling speculation that investors could band together to keep the company in Canadian hands, avoiding the national embarrassment that followed Nortel Networks Corp.'s failure four years ago.
The Waterloo, Ontario-based smartphone maker said yesterday that it's forming a committee to consider joint ventures, partnerships or an outright sale of the company. Prem Watsa, a Toronto businessman and BlackBerry's largest shareholder, also announced plans to step down from the board, raising the possibility that he may play a role in rescuing the company.
Assembling a Canadian team of investors -- potentially including some of the nation's biggest pension funds -- would allow the company to go private and tackle its challenges without the harsh light of public markets. A local bid also would be more palatable to regulators, who review foreign takeovers to determine if they have a "net benefit" to Canada.
"Given the sensitive nature of the brand and the product and the information the company possesses, any sale to a party outside Canada is going to have a lot of scrutiny around it," said Brian Huen, managing partner with Red Sky Capital Management Ltd. in Toronto. His firm oversees C$220 million in assets, including shares of BlackBerry. "There's certainly going to be an effort to keep it in Canada," he said.
BlackBerry climbed 1.4 percent to $10.93 at the close in New York, after gaining 10 percent yesterday, fueled by optimism that a buyout deal will take place.
Pension Funds
The idea may draw the interest of pension managers. Canada Pension Plan Investment Board Chief Executive Officer Mark Wiseman, who runs the country's second-largest pension-fund management firm, said last week he would consider an investment in BlackBerry if the company decided to go private.
Alberta Investment Management Corp. CEO Leo De Bever made similar remarks yesterday, while saying it's still "early days."
"No one has approached us with anything that is baked," he said in an interview.
In considering strategic alternatives, BlackBerry CEO Thorsten Heins is trying to prevent the company from being sold off in parts -- something that happened to another former star of the Canadian technology industry: Nortel. That company, which was once North America's largest telephone-equipment maker, filed for bankruptcy in January 2009 before being broken up and sold at auction to foreign buyers.
Strategic Alternatives
Heins hired JPMorgan Chase & Co. and RBC Capital Markets to advise the company on strategic alternatives last year, though at the time he said a sale wasn't the "main direction" he was considering. The company's outlook has worsened since then, with the revamped BlackBerry 10 -- the linchpin of a turnaround strategy -- meeting tepid demand.
Its market value has plummeted almost $80 billion over the past five years, falling to $5.7 billion. That gives BlackBerry the cheapest valuation among communications-equipment rivals in North America, according to data compiled by Bloomberg.
The company has been struggling to regain market share lost to Apple Inc. and Google Inc.'s Android platform, which together accounted for more than 90 percent of smartphone shipments last quarter. BlackBerry's share shrank to 2.9 percent in the period, according to research firm IDC.
Watsa's Move?
Watsa, CEO of Fairfax Financial Holdings Ltd., is now seen as a potential savior, said Peter Misek, an analyst with Jefferies & Co. in New York.
"Prem Watsa's resignation from the board supports a possible leveraged buyout," said Misek, who recommends buying BlackBerry shares. "We believe Fairfax -- along with other Canadian pension funds and banks -- are considering taking BlackBerry private."
Misek estimates that Canada's biggest pension funds and major banks own or control about 17 percent of BlackBerry shares. Their stakes represent 0.3 percent of those organizations' equity assets, giving them plenty of room to increase that investment, he said.
Paul Rivett, president of Fairfax, said yesterday that he and Watsa wouldn't comment on the matter.
A homegrown bid for BlackBerry could sidestep some regulatory scrutiny. The Canadian government automatically reviews all foreign takeovers of companies with asset values of more than C$344 million ($334 million) to determine whether the transactions are a "net benefit" to the country.
'National Champion'
James Moore, Canada's new industry minister, declined to comment on BlackBerry's announcement yesterday. His predecessor in the job, though, was more vocal in expressing support for the smartphone maker.
"When you have a national champion like BlackBerry, you hope they remain a national champion," Christian Paradis, the former industry minister, said in a March interview.
Speculation about possible foreign bidders has focused on Lenovo Group Ltd., the Chinese maker of personal computers, which is looking to expand its mobile-devices business. Lenovo Chief Financial Officer Wong Wai Ming told Bloomberg News in January that his company was looking at "all opportunities," including BlackBerry. Brion Tingler, a Lenovo spokesman, said yesterday that the company has no comment.
Finance Minister Jim Flaherty said in January that the government would "look carefully" at a bid for BlackBerry by Lenovo.
Z10 Debut
The new BlackBerry 10 lineup, introduced at a lavish event in New York in January, has yet to spur a comeback at the company. The new touch-screen Z10, meant to compete directly with the iPhone, missed analysts' estimates by almost a million units last quarter. That contributed to a loss in the period, and BlackBerry is forecasting more red ink for this quarter.
The sluggish demand for its phones may be the biggest challenge in attempting a takeover of the company, said Mark Shafir, head of mergers and acquisitions at New York-based Citigroup Inc. While buyers may be interested in BlackBerry's services business and patent portfolio, bundling them together with the hardware business might be less appealing. That makes a breakup more likely, he said.
"The hardware business is a bit of an albatross," Shafir said in an interview on Bloomberg Television. "The question is, can you sell it to a discrete buyer or do you break it up?"
Before it's here, it's on the Bloomberg Terminal.
LEARN MORE