Fraud Charges Won't Help Small Business Lending Pioneers
by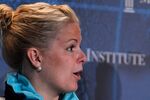 Since launching SoMoLend, a startup that connects small businesses seeking loans with banks and individual lenders, Candace Klein has been an outspoken proponent of the JOBS Act, touting the law's potential to unleash a flood of financing for small firms. Peer-to-peer lenders such as Lending Club and Prosper have already shown that individuals are willing to lend consumers billions, and Klein sought to bring the same crowdfunding principles to small businesses seeking loans.
Now Ohio's securities regulator wants to shut her Cincinnati-based business down, alleging she lied to investors and sold securities without necessary licenses. The Ohio investigation provides ammunition to advocates who worry that the JOBS Act's provisions will lead unsophisticated investors to be duped. (It's worth noting that Lending Club and Prosper also tangled with regulators and emerged intact.)
The Ohio Division of Securities allegations, filed in June but first reported on Cincinnati.com yesterday, are best read in two parts. In the first, regulators allege that Klein misled potential investors in the company, at the same time violating the ban on general solicitation that will soon be lifted under the JOBS Act. That includes soliciting investors in a press release and projecting that her company would have $45.5 million in revenue in 2015. She also projected that the company would be worth $182 million in 2015.
Those numbers, the state says, don't track: From the company's launch in 2011 through March 7, 2013, 25 loans were funded on SoMoLend for a total of $234,000, generating $3,404 in commissions for the company, according to Ohio.
Projecting revenue five years out for a new company—and in a new industry, no less—is far from an exact science, and SoMoLend is hardly the first startup to make bold projections or wander onto the wrong side of the general solicitation ban. Still, the projections look worse in the context of remarks, cited in the regulatory documents, that Klein made earlier this year: "Always appeal to their greed first. If you always appeal to your audience's greed first, then you can never fail."
SoMoLend has a hearing set for October, says Brian Hoyt, a spokesman for the state's Division of Securities. Klein declined to comment because the process is still unfolding.
Less crucial to Ohio's case against SoMoLend, but more important to the growing field of companies seeking to make peer-to-peer loans to small businesses, the securities regulator also said that SoMoLend lacked the proper licenses to serve as a middleman for loans made over its website. Peer-to-peer lending sites use a variety of approaches to stay on the right side of government regulators.
Lending Club, which expects to facilitate more than $2 billion in personal loans in 2013, registers each loan as a security, allowing people who aren't rich enough to qualify as accredited investors to participate. Companies such as Endurance Lending Network and Dealstruck connect small businesses only with accredited investors. While it's not clear from the regulatory documents who funded loans made over the SoMoLend website, the state says that neither SoMoLend nor Klein were licensed to conduct those transactions.
Ohio may simply be a bad place for peer-to-peer lending sites to do business. Neither Lending Club nor Prosper allow Ohio residents to invest in loans, and Andrea Seidt, who heads the state's securities regulator, has written critically (pdf) about equity crowdfunding provisions in the JOBS Act. D.J. Paul, vice-chairman of industry group Crowdfund Intermediary Regulatory Advocates, says it appears that Ohio "is coming after the industry through SoMoLend," adding that the case may have "a chilling effect." If that's the case, Klein probably should have known as much, given her past tenure chairing CFIRA.
With the SEC still finalizing rules governing equity crowdfunding, Ohio's case against Klein may damage the industry she has helped pioneer. If she gets shut down, other startups tackling peer-to-peer lending to small businesses could get scared away. "She was a very active voice, and still is," says Peter Renton, founder of Lend Academy, which publishes information on peer-to-peer lenders. "If the allegations are true, it's very bad news for anyone in the community."
Before it's here, it's on the Bloomberg Terminal.
LEARN MORE