Some Xerox Scanners Can Alter Documents by Accident
by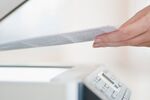 On the scale of things too horrible to contemplate, "document-altering scanner" is right up there with "flesh-eating bacteria." This week Xerox acknowledged that some of its scanners can, with certain settings, change the numbers in scanned documents. On Wednesday it announced a fix for the problem, which a spokesman called "really an anomaly."
The problem came to light when David Kriesel, a German computer scientist, scanned a construction plan on a Xerox machine and noticed that the document that came out wasn't identical to the one that went in: Numbers for some room measurements had changed. Kriesel alerted Xerox, wrote about the problem on his blog and began to investigate how widespread the problem is.
The problem comes down to faulty compression software on a range of ColorQube and WorkCentre machines. The software makes documents take up less room in data transmission and computer memory. Kriesel wrote: "[I]n their glossy brochures, they have been praising the compression mode in question as a top notch feature."
On Wednesday Xerox announced two fixes: Either reset the scanner settings to the factory defaults or apply a software patch.
In an e-mail on Thursday, Xerox spokesman Bill Mckee wrote, "Let me put this in perspective, that this is really an anomaly, experienced by a few users when using the scan to file function, but only if they have modified the file compression settings." The company says some users use extra compression because they have network bandwith limitations or their files are exceptionally large.
This may not be the end of the story, by the way. As Xerox notes, the JBIG2 compression algorithm that produced the errors is an industry standard.
Before it's here, it's on the Bloomberg Terminal.
LEARN MORE