Toyota, Rivals Sell Car Leasing to the Family Sedan Crowd
Once a mainstay of pricey models, leasing attracts the Camry set
by and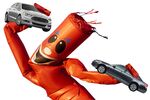 When Toyota Motor needed to bounce back from an embarrassing series of product recalls and the 2011 Japanese earthquake, it turned to low-cost leases to lure customers to dealer showrooms. It worked. The revived global auto market leader is using the same strategy in 2013, offering $199-a-month deals to keep its Camry in the No. 1 sales position in the U.S.—only this time pretty much the entire auto industry has joined the party.
Traditionally a tool for luxury vehicle makers, leasing deals are now common for family sedans such as Ford Motor's Fusion and Honda Motor's Accord. Driven by high used-car prices, low interest rates, and Americans' tendency to buy vehicles based on the monthly payments rather than the sticker price, U.S. auto leasing is at the highest levels in at least a decade and sales are on track to become the industry's best year since 2007.
"It's a great way to present a product at very affordable monthly prices," says Peter DeLongchamps, a vice president for Group 1 Automotive, the fourth-largest U.S. auto dealership group and one of the nation's biggest Toyota retailers. Group 1 reported revenue of $2.34 billion for the three months ended June 30, a quarterly record for the company. "There's absolutely no question" Toyota is using leasing to maneuver in an increasingly competitive midsize car segment, DeLongchamps says.
Leasing's share of new-vehicle sales in the U.S. has been at least 22.5 percent in every month this year, according to J.D. Power & Associates. The four top months for lease penetration in the past decade, which is as far back as Power's data go, were in 2013, and each of the year's first seven months rank among the top 10, the researcher says.
The momentum is driving U.S. car and light-truck sales to a six-year high. Deliveries climbed 14 percent in July, to 1.32 million vehicles, according to researcher Autodata. The annualized industry sales rate, adjusted for seasonal trends, hit 15.8 million vehicles, from 14.1 million a year earlier. That pace puts the U.S. on track for its best year since 16.1 million vehicles were sold in 2007.
Today's strong used-car prices allow automakers to project higher values for their vehicles when leases expire. This trend lets auto companies offer cheaper monthly lease payments. Honda, for example, is pitching $159-a-month leases on its popular Civic.
High-end models such as those produced by BMW and Daimler's Mercedes-Benz already get at least half their U.S. sales through leases. "Moving into luxury cars, it made so much more sense to rent them than to buy them," says David Welch, a product manager for a Silicon Valley technology company, who signed a two-year lease on a Mercedes E350 4Matic during the Fourth of July weekend. "For two years, I've got a car where I've only got to put gas and insurance into it."
Leasing's expansion can benefit more mainstream car brands by cultivating loyal customers who trade up into higher-priced models for future purchases, says Kevin Tynan, an auto analyst at Bloomberg Industries. "You'll get people [moving] up from compact cars into midsize cars by being aggressive" in leasing, he says.
Customers are showing growing acceptance of leasing in more segments, including midsize cars, says Bill Fay, a Toyota group vice president. Prices paid for Toyota's cars at the end of their lease, known as resale or residual values, rank among the highest in the industry as a percentage of the original price. "We're going to leverage a good position we have from resale values to use that as an advantage," Fay says. "It allows us to offer very competitive monthly payments."
The ability to offer a Camry at cheaper monthly rates is crucial as Toyota tries to stem declining demand. Camry deliveries slipped 0.6 percent, to 242,406, over the first months of 2013 vs. a year earlier, according to Autodata. Competitors, including Ford, Honda, and Nissan Motor, are closing in on Camry, the top-selling car in the U.S. for the past 11 years. A 19 percent surge in Honda Accord deliveries through July, for one, cut its sales deficit to Camry by 60 percent from a year earlier, to about 24,000 vehicles.
Lease financing appears to have played a part in Toyota's maintaining its lead. The share of Camry sales tied to leases rose to about one-fourth for each month early in 2013, from 20 percent or less a year earlier, according to Kelley Blue Book. Leasing is "a way to reach consumers that were risk-averse and hesitant to jump out there and buy a new car," says Alec Gutierrez, an auto analyst at the researcher.
Fully 20 percent of General Motors' U.S. sales during the second quarter were leases, up 4.6 percentage points from the same period a year earlier, Chief Financial Officer Dan Ammann said during GM's second-quarter earnings call. GM said it outpaced the growth in leasing for the rest of the industry, which was up 2.5 percentage points, to 24.3 percent, of all sales.
Ford, whose leasing business has been increasing as a share of its U.S. sales but remains below the industry average, is more cautious about the trend, says CFO Bob Shanks. That's because some automakers during past periods of leasing mania ended up oversubsidizing lease payments or requiring down payments that were too low, turning many deals into money losers. "In the prior decade, there were periods where leasing was excessive," Shanks says. "I don't think we want to return to those days."
Many automakers and lenders moved away from leasing during the financial crisis, with Chrysler Group's predecessor company abandoning such financing entirely in 2008 when the credit markets seized up and residual values fell. Since the GM and Chrysler bankruptcies the following year, however, GM has acquired AmeriCredit and renamed it General Motors Financial, and Chrysler has formed an auto-financing venture with Banco Santander—giving both more leeway to offer attractive leasing deals.
Lately, Chrysler's residual values have been on the rise, helping boost sales of its midsize 200 sedans and Dodge Dart compacts from dealerships such as Extreme Dodge Chrysler Jeep Ram in Jackson, Mich. Leases have accounted for about one-third of Extreme's sales this year, including many shorter-term lease deals that offer one advantage for car retailers that traditional sales can't match. "We love two-year leases," explains owner Wesley Lutz, "because people come back in two years."
Before it's here, it's on the Bloomberg Terminal.
LEARN MORE