Sard Verbinnen, Wall Street's Go-To Crisis PR Firm
Sard Verbinnen puts out fires and is No. 1 in M&A
by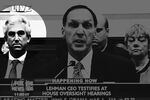 There was enough ink for everyone at the trial of the summer. On July 15, former Goldman Sachs banker Fabrice Tourre—better known as "Fabulous Fab"—walked into U.S. District Court accused of defrauding investors in a subprime mortgage deal during the financial crisis. His picture was on the front page of the New York Times business section, and he would stay in business press headlines for much of the next three weeks. His pretrial years were chronicled, with emphasis on charity work done in Rwanda and diligent study for a doctorate. Op-eds asked whether Tourre was just a scapegoat. His lawyers and prosecutors were profiled. Jurors who nodded off were outed and blogged about; the judge was written up for her leadership; every witness got a turn. The only person journalists at the trial failed to mention was the man with the wavy gray hair.
Sitting in the gallery, well out of range of the sketch artists, George Sard of the public-relations firm Sard Verbinnen was watching the culmination of three years' work rehabilitating Tourre's image. Goldman Sachs was footing the bill. As the trial progressed, Sard quietly compared notes with reporters, made sure they got documents they needed, and dashed between the courthouse and a temporary war room in a nearby apartment building to discuss witnesses with Tourre's legal team.
Ultimately the jury ruled against Tourre, but the case is a prime example of Sard Verbinnen's ability to influence a major news event without leaving fingerprints. It's a firm that seeks to be in every financial reporter's in-box, and sourced in none of their stories. (Sard and his partner, Paul Verbinnen, declined to comment on the record for this article.) Journalists need Sard's morsels of information; and Sard, as the firm is known, needs journalists to be fed just well enough to give its clients a fair shake.
"They are a company that I'm not able to recommend highly enough," says former bond trader Joseph Jett, who was accused by Kidder Peabody in 1994 of a more than $300 million fraud, making him an instant pariah. Kidder's parent, General Electric, owned NBC News and CNBC, and Jett says he felt "lynched," unable to mount a public defense. (GE declined to comment.) Sard worked out a strategy that exploited newspaper rivalries, then got Jett on Fox News, where his conservative politics made him a sympathetic guest. And Sard drilled Jett on speaking to reporters in plain English, not trader garble. "They managed to take those aspects of my character that lawyers didn't think were very important and used them to rehabilitate me," Jett says. "It was really a miracle they performed." Sard's fees ran to more than $1 million.
On Wall Street, the principals' names change, but the PR firm behind them stays the same. Halfway through Tourre's trial, federal prosecutors indicted billionaire Steven Cohen's hedge fund, SAC Capital Advisors, on insider-trading charges. Sard's Jonathan Gasthalter has represented Cohen for the better part of a decade, trying to kill stories that paint the fund in a negative light and blunting suspicion that his outsize returns are tied to illegal activity. The next week, two more Sard clients were in the news: Dell, whose special board committee Sard represents in a $25 billion takeover dance, and Air Products and Chemicals, which was scrambling to respond to a surprise $2.2 billion investment by hedge funder Bill Ackman.
In a rarity, Sard Verbinnen was even news itself in June, when it recruited the spokesman for Preet Bharara, the U.S. Attorney investigating Cohen, to join its staff of 110 who spin, leak, stonewall, and polish. The boutique that Sard and Verbinnen started in 1992 is now the No. 1 PR agency by deal count in the lucrative mergers-and-acquisitions arena, lending its expertise to 45 transactions worth $71 billion in the first half of 2013, according to Mergermarket.
Sard prides itself on shutting down news as well as shaping it. "They spend 98 percent of the time trying to keep us out of the press, which I like," says Jonathan Nelson, chief executive of Providence Equity, a $28 billion private equity fund. And when they can't? "If you are going to be in a PR knife fight, they are the team you want," says Scott Thompson, CEO of Dollar Thrifty Automotive Group.
Crisis and litigation work add up to about a fifth of the firm's revenue, according to people familiar with the firm's business. The majority of its revenue comes from M&A, where Sard is one of a handful of firms—along with Joele Frank, Kekst, Abernathy MacGregor, and Brunswick—on financiers' and lawyers' speed dials when a media strategy needs to be layered atop a fast-moving merger.
"The Wall Street guys, the lawyers, and these firms have this little club that puts all these deals together," says Paul Argenti, a Dartmouth professor who has taught corporate communications for 32 years. "They can bury large fees in these deals. It's a rounding error to pay a couple million bucks" to a PR firm.
Sard and Verbinnen met in 1987, when they were roommates at a retreat for Ogilvy Group executives. After WPP bought the company, the men started their own shop. Kekst dominated the financial PR industry then, having pioneered the idea of a financially literate agency that could work the press at the same speed that bankers put together deals. By 2000, Sard was climbing the industry's league tables, and today the firm has offices in five cities, including a London branch that opened on Aug. 1.
Sard, 60, is the more likely of the founders to chat up journalists. Verbinnen, 55, prefers to work further in the background. Gasthalter, who represents the firm's hedge fund clients, is the pit bull guarding the door. A former press aide to New York Attorney General Dennis Vacco, Gasthalter inspires a mix of respect and hostility from reporters who have tangled with him. Britt Erica Tunick, a former reporter for Institutional Investor's Alpha, recalls telling Gasthalter, "I have more respect for prostitutes because at least they own what they do." She wrote a 2010 profile of Cohen that ended in acrimony between her publication and Gasthalter. He declined to comment. Tunick now runs her own communications firm.
Most clients see only the relatively gentler M&A work. Sard advised Dollar Thrifty's Thompson when his company received a hostile bid from Hertz in 2008. "When we wanted to bury our heads in the sand and just run our business, they explained to our team we needed to win the hearts of the investors to win the battle with Hertz," Thompson says. He credits Sard's advice with helping him persuade shareholders to wait for a better offer. The deal went through after Hertz raised its price 44-fold—which valued Thompson's holdings at almost $60 million. "In hindsight," he says, "I would have to say their advice proved itself to be on point."
Before it's here, it's on the Bloomberg Terminal.
LEARN MORE