Richard Cohen, New Hampshire's Invisible Grocery Billionaire
Richard Cohen built a fortune in the low-margin grocery business
by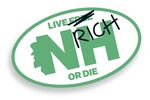 There's a reason Richard Cohen escapes attention. The chairman of C&S Wholesale Grocers works out of a nondescript office park in Keene, N.H., a mountain hamlet 90 miles northwest of Boston. Cohen's last interview was published a decade ago. And the Keene Chamber of Commerce didn't even bother to list C&S in a section of its website showcasing the area's largest employers until a reporter flagged the omission. "We're the biggest company no one has ever heard of," says C&S spokesman Bryan Granger.
Cohen—who goes by Rick—has transformed C&S into the world's largest grocery wholesaler since taking over the business in 1989. Along the way he's amassed a fortune of $11.2 billion, making him one of the 100 richest people on the planet and the wealthiest man in New England after Connecticut hedge fund manager Ray Dalio, according to the Bloomberg Billionaires Index. C&S had sales of $21.7 billion in 2012, supplying 4,000 supermarkets from Maine to Hawaii.
The fact that Cohen, 61 and the business's sole owner, has never appeared on an international wealth ranking is testament to how zealously he guards his anonymity. "I tried to put our name on the trucks and he didn't want any part of it," says Edward Albertian, a former C&S president who now leads Boston-based retailer CitySports. "He wanted to continue to be stealth and operate in this little, dinky Keene, New Hampshire, marketplace." Cohen declined to comment for this story.
Cohen's grandfather, Israel, co-founded C&S in Worcester, Mass., in 1918, according to the company's website. Israel's son Lester, who served as a bomber navigator in World War II, later expanded the business into supplying military bases. Rick joined the company in 1974 after graduating from the University of Pennsylvania's Wharton School with an accounting degree. Following a three-week union strike that almost shuttered the business, Cohen persuaded his father to relocate the company to Brattleboro, Vt., where it could build larger warehouses and hire nonunion workers, according to Thomas DeLong, a Harvard Business School professor who has written a case study on C&S. He took over as chief executive officer and chairman when his father retired. The company's headquarters moved 18 miles east to Keene in 2003, after Cohen got officials to relocate the county jail they planned to put up on the parcel of land he had his eye on, says Paul Miller, executive editor of the Keene Sentinel.
Grocery wholesaling is a low-margin business where economies of scale don't guarantee success. Supervalu, of Minnesota, ceded the title of world's largest wholesaler to C&S earlier this year after it sold off some assets to compensate for a sales decline. "It's a difficult market, but when run efficiently and effectively it can be profitable," says Burt Flickinger III, managing director of Strategic Resource Group, a consulting firm.
At C&S warehouses, self-managed teams of workers are responsible for meeting customer orders—fetching the items from shelves, collecting and wrapping them on pallets, and loading them onto trucks—on time. On top of hourly wages, teams earn money for every order filled and suffer a wage deduction for every mistake. Fewer than 2 percent of the orders C&S processes have errors, efficiency that's unheard of elsewhere in the industry, according to Albertian. Says DeLong: "I'm not sure I've met anyone as smart, analytic, and quantitatively driven as Rick."
"Rick is neurotic about losing customers," says DeLong, to the point that he'll occasionally step in to rescue a troubled grocery chain, as he's done with Grand Union in the Northeast and Bruno's Supermarkets in the South. He restructured both businesses and sold them at a profit.
The billionaire and his wife, Jan, own the most valuable single-family home in Keene, assessed at $1.5 million, according to property tax records. Cohen also owns real estate in Ogunquit, Me., and Jackson, Wyo., according to tax records. Their New Hampshire neighbors say the Cohens don't put on airs. Says Miller: "You'll run into Rick and Jan at the grocery store in Keene."
Before it's here, it's on the Bloomberg Terminal.
LEARN MORE