Nascar's Brian France on Crashes, Driver Diversity, and His Driving Flaw
The Nascar chief discusses the stock car circuit's competitiveness, diversity plan, and his own racing past
By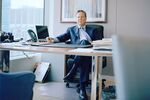 I follow sports, but, to be frank, I'm not a motor sports fan. So if you take me as a test case, how do you sell me on Nascar?
We are about close and competitive competition. There's contact in the end—within reason, that's going to happen. Our other motor sports are a little bit … don't quite claim that particular lane. If we get all that right, you know, we tend to do pretty good with new fans.
Does it start, then, with the track experience?
Going to an event, definitely, is the best way for us to convert. And then on television.
You want the races to be close, but you also want your drivers to be celebrities, and that often comes with a few dominant drivers. What's the ideal competitive balance? Is it OK to have four or five drivers where everybody knows their name, and then maybe a quarter of the field that are virtually anonymous?
No league needs every franchise to be successful. But you need enough star power to resonate. To us, star power isn't just about being flashy. It's also about winning at a high level, and consistently. So I don't know what the number is, but we need more than anybody else in motor sports. We take pride in the fact that at least 20 to 25 drivers can win on any given Sunday.
It seems like personality matters, too. Do you need more drivers that a broader range of people can identify with? Do you need more non-white-guy drivers?
I think you do. That's going to be another chance for us to have some breakthroughs. If we get a Hispanic driver, an African-American driver, more crew members, which we're working on—we have a robust diversity plan that's produced some really talented drivers. We haven't had a breakthrough yet at the national level, but we're close.
If there's a little bit of contact, you guys are OK with that if it's within the rules. How do you balance the fact that part of what attracts people to the sport is the possibility of seeing a wreck with the desire to keep your drivers safe?
If you make the cars a lot safer, then you can withstand more high-speed wrecks and more contact because the drivers will feel an element of safety, although never 100 percent. But it's pretty high right now, even with pretty dramatic crashes, because they're hitting safer barriers and doing it with a car that's made to fold and crash in a certain way.
Is the death of a driver the worst thing that could happen to Nascar?
That would be a tragedy. But if a driver were hurt very seriously, that would be a blow to us, too. It's at the top of our list to keep evolving and have a robust safety plan to make the cars safer. And the drivers and owners and others would all agree with that.
You have a unique situation: You have a family business that is the governing body for a big-time sport. I assume you're not anonymous at the tracks.
No. I wish I were. But I don't have Tom Cruise's problems, let's put it that way.
Do you think your kids will go into the business?
I hope they do, but I don't know.
Is there a succession plan?
I have a nephew who just turned 21, and he's the only one at this stage who has shown an interest. He's racing cars right now. We'll see how he does with that. But succession is in place, regardless of family members.
Did you ever try to get behind the wheel?
A couple times. In my early 20s, I competed in some very small, short tracks out in Oregon and some other places. I wasn't real good at it. I knew really quick that I need to be behind a desk and not behind a car.
What was your fatal flaw?
My fatal flaw was talent, not having enough of it, and knowing that people were passing me with inferior equipment. I'd like to blame somebody else for that, but I can't.
What do you think makes a good driver? What do these guys need to have?
They've got to have the whole package. They've got to be able to go in the corner a little bit better than somebody else. They've got to be able to read the pace of a race. They've got to be able to communicate with their team about what their car may need. And they have to be able to do all that, and then, at the right moment, they have to be a little bit braver and a little bit smarter than everybody else.