Myanmar's Foreign Investors Face Office Space Shortage
Companies setting up in Myanmar face a shortage of office space
by and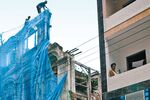 Sean Danley has spent the past six months in Yangon scouting office space for his U.S.-based employer, which wants to open an outpost in Myanmar. He checked out the city's three office towers. Annual rents in those buildings, none of which is taller than 27 stories, now surpass $100 a square foot, higher than the $75 average for downtown Manhattan, according to broker CBRE Group.

The Yangon villas Danley considered didn't have safety exits and required sharing space with other companies or were in odd locations—all unsuitable for an international engineering and construction business such as his. (Danley says he isn't authorized to identify the firm.) After seeing 10 places and losing one to someone Danley claims had a "bag of money," the executive is still looking. "We can't move into a space where someone's cooking up nasi goreng on the sidewalk all night," he says, referring to fried rice.
Finding office space is a headache for the hundreds of multinational companies looking to set up operations in Myanmar, a nation of 48 million that was the target of sanctions for 15 years. Yangon, the commercial capital, needs at least 8.7 million square feet of office space to support the influx, according to Yoma Strategic Holdings. There are 600,000 square feet available now.
Some companies are operating out of Yangon hotels. Mizuho Corporate Bank has seen its rent at the Sedona Hotel more than double since April of last year to $6,720 a month for 1,000 square feet, according to its local representative, Tetsuro Nonaka. Other Sedona tenants include Yamaha Motor and Kawasaki Heavy Industries.
Consumer-goods giant Unilever is among companies that have rented villas, driving lease prices skyward. A four-bedroom house that rents at $6,500 a month will probably cost $9,500 by the end of the year, says Brett Miller, managing director of Scipio Services, a local facilities management company.
The imbalance between supply and demand has predictably sparked a building boom. About 1.9 million square feet will be available by the end of 2015, according to broker Colliers International. "Whatever is being built right now will not satisfy immediate demand," says Cyrus Pun, executive director of Yoma, a Singapore company that derives most of its revenue from developing property in Myanmar. "It's an attractive market for foreign developers."
Asian investors like Pun have a head start in Myanmar because the country was off limits to their Western rivals for more than a decade. The U.S. and the European Union have gradually been lifting sanctions since Myanmar's political opposition, headed by Nobel Peace Prize winner Aung San Suu Kyi, won a majority of legislative seats in the April 2012 elections.
U.S. companies are now free to invest in the country, though they are barred from doing business with ventures connected to the former military leadership. Among the challenges newcomers face are phone networks that frequently drop calls and a cash-only payments system.
Ambiguous laws are holding some potential investors back. Speaking at a July 2 press conference, Lucas Chow, chief executive officer of Singapore's Far East Orchard, cited uncertainty over property rights and mortgages among the reasons the Singaporean developer was not rushing into Yangon. "It's a very cowboy town," said Chow, adding, "I don't think we have an appetite for that kind of market."
Before it's here, it's on the Bloomberg Terminal.
LEARN MORE