Mugabe's Win Threatens Zimbabwe's Economic Recovery
The government of Zimbabwe seeks control of many companies
By and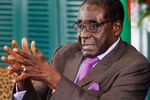 Robert Mugabe, president of Zimbabwe, has led the Southern African nation for 33 years, the past four in a fractious coalition with the Movement for Democratic Change (MDC), a political party made up of two factions, the larger of which is led by Morgan Tsvangirai. In a national election on July 31, Mugabe's Zimbabwe African National Union-Patriotic Front (ZANU-PF) won 76 percent of the parliamentary seats.
While observers from most neighboring states declared the elections free and peaceful, Western observers, Tsvangirai, and a local voting rights group counter that the election was deeply flawed. They say as many as 1 million voters were either disenfranchised or assigned to wards so far away they could not reasonably make the journey to vote. Tsvangirai plans to challenge the results in court but says his chances of success are slim because the judiciary is "compromised" by Mugabe appointments. With a clear majority in the assembly, Mugabe, 89, no longer needs to rule in a coalition. "We are very happy we have dealt the enemy a blow," he told party members on Aug 7.
The prospect of another five-year Mugabe term has spooked investors. The main stock index fell 13 percent in two days after the ZANU-PF victory. Between 2000 and 2008, Mugabe's government expropriated white-owned farms to secure land for black subsistence farmers and veterans of the war of liberation against the whites. The economy shrank 39 percent in that period. The central bank printed money to pay the government's bills, triggering the worst inflation on earth and generating scarcities of everything from bread to medicine.
After Mugabe was forced by neighboring states into a coalition with his rivals, the MDC-controlled ministries abolished the Zimbabwean dollar in favor of currencies including the greenback and the rand. The move cut the inflation rate to 1.9 percent from the 500 billion percent estimated by the International Monetary Fund. The economy grew for four consecutive years, empty supermarket shelves were restocked, treasury bill sales resumed, and stocks surged.
Now "the country is back to square one," says Nhlahla Mpofu, an economist at investment group 4Cast Research in Bulawayo, Zimbabwe's second-biggest city. "The country is not going to have foreign direct investment," he says. Most banks in Zimbabwe have stopped issuing new loans because of concern over future economic policy, two chief executive officers of lenders say, declining to be identified because they don't want to offend the government.
Mugabe's campaign pledges included a program, known as indigenization, to compel foreign-owned companies to cede 51 percent stakes to black Zimbabweans or the government. That would give Zimbabweans control of local units of banks such as Barclays and Standard Chartered.
The electorate has given Mugabe and his ZANU-PF a "clear mandate to transform the economy," the ruling party said in an Aug. 6 statement. "Over the next five years, Zimbabwe is going to witness a unique wealth-transfer model that will see ordinary people take charge of their economy."
Some Zimbabweans are dubious. "We are going back to empty shops and chaos," says Jefta Murenga, a tire fitter in Mabelreign, a suburb of the capital, Harare. "Mugabe and ZANU-PF are naive about economic issues. They think Zimbabwe is rich because of the minerals under the ground, but they are actually clueless, because no one has the money to get those minerals to a buyer."
Even after four years of recovery, Zimbabwe faces power shortages, crumbling infrastructure, and high poverty, with the IMF estimating annual per capita income, adjusted for currency variations, at $589, the lowest in sub-Saharan Africa after the Democratic Republic of the Congo. Given the drop in commodity prices, economic growth in the nation of 13.1 million people should slow to 3.4 percent this year, from 5 percent in 2012, according to outgoing Finance Minister Tendai Biti, who is also secretary general of the MDC. Zimbabwe has the world's second-biggest platinum and chrome reserves after South Africa, as well as deposits of diamonds, iron ore, gold, and coal.
Investor sentiment may be further undermined as indigenization proceeds. Mining companies, including Impala Platinum Holdings, Anglo American Platinum, Rio Tinto, and Aquarius Platinum, will be the most affected. Earlier this year, Mugabe said the government shouldn't pay for its controlling stakes in natural resource companies, contradicting agreements already in place. "When it comes to natural resources, Zimbabwe will not pay for her resources," says Saviour Kasukuwere, the minister in charge of indigenization. If the mining companies "don't follow the law, that's their problem."
BOTTOM LINE -
The bottom line: Zimbabwe's newly elected government wants to control mining companies without paying for its 51 percent stakes.
Before it's here, it's on the Bloomberg Terminal.
LEARN MORE