Iliad's Xavier Niel on Why the French Pay Less Than Americans for Phone Calls
The billionaire executive talks about how the French telecom got started, his computer programming school, and opportunity in France
by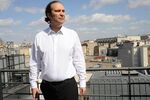 French consumers pay some of the world's lowest broadband rates thanks to Niel's triple-play service, Free, which has forced established operators to match its discount prices. Now, Free is moving into mobile, sending prices plunging there as well. A college dropout, the 45-year-old Niel talks about building his $8.3 billion fortune and why he set up a free school to train young programmers.
How did your company, Iliad, get started?
We created our first Internet service provider in 1993. It was a classic "garage" story. In our case it was a group of friends, starting from a little apartment in Paris. We developed our business model, and at the end of 1998 and beginning of 1999 we created Free with the desire to bring the Internet to everyone.
France has a specificity—the market players who provide Internet access are the telecom operators, and all of the players are French. They had a habit of, let's say, getting along with each other, and the prices traditionally were very high. We came in offering lower prices, and we competed with them on all fronts.
In 2000, we decided that we wanted to develop our own equipment, something that would allow you to access the Internet, watch television, and make phone calls. We felt sure that it must already exist somewhere in the world, and so we went to the United States and elsewhere, but we didn't find it anywhere else, and so we decided to make it ourselves. We invented the triple play. This was in the beginning of 2002.
And as soon as we came onto the market, prices started going down. It was a very good thing for France! Here in France, people are now paying two or three times less than in the United States. From France, you can call anywhere in the world for free. Americans can't do that!
How are you able to offer lower rates than your rivals?
The real question is, why were the others able to charge such high rates for so many years? They had enormous margins. We only ask for a normal margin. In mobile telephony worldwide, you have only a small number of players. All you need is to have one player come into the market who changes the rules of the game, and suddenly everything changes. Any country that wants to lower its mobile phone rates, all they need to do is bring in an aggressive player.
Tell me about the school you have started. Why is it called 42?
Forty-two is a mythical number for geeks. It comes from a book called The Hitchhiker's Guide to the Galaxy.
Every year we have 200,000 students who leave the French school system without a diploma. France offers these young people nothing, gives them no hope, no dreams. Under these circumstances, there's a risk they'll make mistakes and get into trouble. But there's a profession where they can make a good living—computer programming—that's open to anyone. All you need is to be logical and have the desire to do it.
Every year we'll train 1,000 young people. They'll be guaranteed to get a job at the end, either in France or elsewhere, with a good salary. Selection is based on logic. There's a test given online, 70,000 people have taken it already. We'll choose 4,000 people at first, then we'll have them work 15 hours a day for 30 days, and from those who stay with it we'll choose 1,000. They'll be trained for three years, entirely free of charge. The idea is to produce 1,000 young geniuses each year, young people who can be hired by Facebook or Google, or by a French company.
Why doesn't France take better care of its young people?
We're in a country where people don't often have the inclination to help each other. Those with money keep it for themselves and their children. They don't have a tendency to help their country.
Do you sometimes wish you had started your business in another country?
France is a fantastic country. It's between the Anglo-Saxon and Latin cultures. We have some of the Anglo-Saxon rigor, and some of the Latin quirkiness. The word "entrepreneur" is French. The French do have a desire to create, to do things differently.
I was born in a not-very-rich town, I come from an ordinary family, a modest background. Yet I had the chance to become a billionaire. In how many countries in the world could that happen? Ten countries? Twelve countries? It's hard for me to criticize this country, which gave me the chance, starting from nothing, not having had a great deal of education, with some luck and some work, to become very rich.
What do you tell people who apply for jobs at Iliad?
We're not going to look at your diploma, we're going to look at what you really know how to do. We don't care if you went to one of the grandes écoles, that doesn't interest us at all. You're going to have an interesting job, you're going to be given responsibility, and you'll be given direct access to management. Our chain of decision-making is very short. You'll be able to change things, to invent things.
As for myself, I'm not the president of the company. I'm the strategy director, trying to develop the technologies and the offers. I'm a geek, I have the chance to do what I love. I love tinkering and getting my hands dirty.
Before it's here, it's on the Bloomberg Terminal.
LEARN MORE