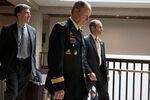 In the weeks since former National Security Agency contractor Edward Snowden exposed secret spying programs, NSA Director General Keith Alexander has been shuttling to Capitol Hill for hearings and closed-door meetings with angry lawmakers. At his side is Deputy Director Chris Inglis. The head of the NSA must be a military officer, and its No. 2 a civilian with the experience to run the agency's daily operations and help the uniformed chief navigate its labyrinthine organization.
During his 27-year tenure at the NSA, Inglis, a computer scientist, has held a series of senior jobs overseeing the collection and analysis of foreign communications, including those from China and North Korea. "Chris has had a rapid rise," says James Lewis, a fellow at the Center for Strategic and International Studies who's known Inglis for more than a decade. "He's not the kind of guy who gets caught unprepared." Unflappable and famous for his prodigious memory, Inglis is widely admired within the agency and on the Hill. "Chris has off-the-charts people skills," says Tony Sager, a former senior official at the NSA. Colleagues also say the longtime Eagle Scout projects a Scout-like earnestness. That might come in handy as he and his boss try to convince Congress that the NSA's snooping is all for the public's good.
Before it's here, it's on the Bloomberg Terminal.
LEARN MORE