Fedele Bauccio on Bon Appétit Management's Posh Corporate Food Service
"I'm concerned about frequency. How often do I get you to come here? If you're only coming twice a week, I want you here four times a week"
by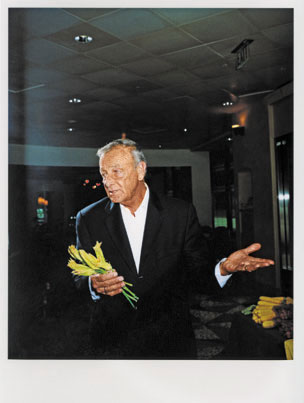 Bauccio shows our tech writer around Oracle's corporate cafeteria, one of the hundreds where Bon Appétit has introduced farm-to-fork meals.
This looks like a mini farmer's market. Is it unique to Oracle?
We do this every Tuesday. The employees can buy these fruits and vegetables to take home, and then we use what we don't sell. We do these all over the country. We have close to 1,300 local farms that we work with.
Is this easier to pull off in California?
Much easier in California and Arizona. But we do it all across the country.
Each kitchen has its own look and feel?
We helped design this place. We wanted to create this Mediterranean marketplace. This does not look like a cafeteria, right? So there is no kitchen in the back. Everything is done in front of the customer because I wanted them to see our chefs working.
How do you persuade a fine-dining chef to work here or at your other kitchens?
I give them freedom to create. In a restaurant, they have a set menu. It's repetitious. I say, "Every week create what you want— wherever you can find the best ingredients." They love being creative. If I took you to EBay or PayPal or Google, you'll see completely different salads. I don't care about buying the cheapest bulk stuff. If my food cost goes up a little bit, that's OK, but I'm concerned about frequency. How often do I get you to come here? If you're only coming twice a week, I want you here four times a week.
What did you make of Google deciding to give its employees free meals?
I worried that financially they would be in trouble when they were small. But it's part of their culture, and it's now become a recruiting tool. People go to work for Google because it's a fabulous place, a fabulous company, and they have all these benefits. And food is part of that. Food is community. It's how you collaborate to create ideas.
When you're at home, do you like to cook?
I do. I have three kitchens at my home in San Francisco. One of them is on the roof. And I have a small kitchen that I use a lot, but I have a really big kitchen, because I have a big Italian family.
Have you tried any of these artificial meat products coming out of the startups here?
No, I'm not into that. I think there is enough food. People say, "How can you feed 10 billion people in the year 2050 with regional food sheds or local food?" Yes, we need small farmers, and we need the large farms. We need to change their practices. We waste a hell of a lot of food in the fields. If we fix that problem and we learn to eat more seasonally and we learn to eat less protein, we'll be able to feed the world.
You guys are a high-end option. How much more does your service cost than the competition?
It's come down now, because we have so many local farmers and ranchers and we're taking some of the middle people out. I would say on average we are 10 percent more. The average check typically for us is right around $5 to $7 for lunch.
Before it's here, it's on the Bloomberg Terminal.
LEARN MORE