Detroit's Bankruptcy Doesn't Faze the Municipal Bond Market
Fallout from a record bankruptcy has been almost nil
By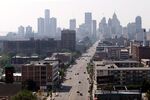 Strange as it may seem, Detroit's bankruptcy filing—the biggest ever for a U.S. city—doesn't appear to have unnerved the $3.7 trillion U.S. municipal bond market. Tom Hamilton, finance director of Norwalk, Conn., had no trouble finding buyers for $21 million in general obligation bonds on Aug. 1. Localities from Washington State to Alabama to Massachusetts planned to sell $8.6 billion in debt during the first full week of August, the most since April.
The momentum defies predictions that the muni market would go into a deep freeze following the Motor City's financial collapse and Detroit Emergency Manager Kevyn Orr's plan to impose losses on some bondholders. "There's not a lot of evidence to show this has been the death knell for GO [general obligation] bonds," says Craig Pernick, senior managing director at Chevy Chase Trust, which oversees about $1.1 billion in munis.
The municipal market has weathered other storms in recent years. Banking analyst Meredith Whitney's December 2010 prediction of "hundreds of billions of dollars" in municipal defaults in the following 12 months helped propel 29 straight weeks of investor withdrawals from muni mutual funds. The day of reckoning never came.
To investors, GO bonds, which are backed by a municipality's taxing power, have become safer after Detroit's July 18 filing. The extra yield buyers demand to own revenue bonds—which are secured by streams of payments, such as sewer fees—instead of GOs hit 0.97 percentage point on Aug. 6, the most since February 2012, Bank of America Merrill Lynch data show.

No municipality has ever used bankruptcy to force a cut in principal on general obligations, as Detroit's Orr wants to do. His plan would give debt holders about 20¢ on the dollar. Moody's Investors Service has rated America's car capital junk since 2009. Fewer than 40 of 7,500 local governments rated by Moody's have junk grades, according to David Jacobson, a spokesperson for the firm.
Tim McGregor, director of municipal fixed income at Northern Trust, says localities that are investment grade won't risk missing bond payments because they need access to the market for capital projects. Norwalk is using the proceeds from its latest bond issue to pay for roadwork and repairs to a seawall damaged by Hurricane Sandy. "Tax-exempt financing is the cheapest source of financing, a lifeline to all their public-purpose needs," McGregor says.
Some Michigan municipalities are struggling to borrow in the wake of Detroit's filing. Issuers in the Wolverine State sold a combined $23 million in bonds in the two weeks since Detroit filed for Chapter 9 protection, the slowest stretch since January 2012, Bloomberg data show. Two Michigan municipalities, Genesee County and Battle Creek, postponed sales scheduled for early August. "Detroit is an incredibly unique situation, and we don't expect or think it should impact the state or other local communities, which should continue to be judged on their own credit ratings and histories," wrote Terry Stanton, spokesman for Michigan's treasurer, in an e-mail.
History has shown that the fallout from a bankruptcy can dissipate quickly. Last year three cities in California sought court protection, pushing relative borrowing costs for localities to a six-month high. The yield penalty has since fallen to the lowest since 2008, and the state in January received its first rating increase from Standard & Poor's since 2006.
BOTTOM LINE -
The bottom line: Investor appetite for general obligation bonds seems undiminished in the wake of Detroit's bankruptcy.
Before it's here, it's on the Bloomberg Terminal.
LEARN MORE