Dealer David Zwirner on the Art Market and Collectors Like Steve Cohen
Zwirner gave up jazz to represent top artists Donald Judd and Luc Tuymans. He explains why he thinks the art market—and collector Steven Cohen—are incredibly resilient
By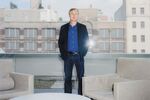 Why did you decide to leave Germany after high school?
When I was a teenager, I wanted to be a jazz musician. I applied to NYU, which was then the best school for jazz. I spent three years getting a B.A.
In drumming?
Drums and composition. Then I realized it's going to be difficult to make a living in the field of jazz. I stacked up my talents against the talent of my colleagues, and I didn't feel I was good enough. That made me turn in different directions.
How did you transition from the music business into the art business?
My father had a gallery, so it was something I was always aware of. But I didn't have a deep interest in it when I was a teenager. When I took a job in Hamburg for a small record label, I made decent money and started buying a little bit of art. Before I knew it, I was spending more time in the galleries and engaging with the dealers, the artists. That gave me the idea to come back to New York and open a gallery.
What was New York like then?
The art world was much, much smaller.
And why has it grown?
The easy answer is the creation of wealth in those 20 years. There's been an incredible trajectory for those with wealth. And while the art market was originally an activity for a few selected individuals, it has now morphed into a lifestyle. There are more and more people who have money to spend. You're part of a global tribe now.
So many financiers are getting into this market. Has that changed the type of art being sold?
It probably has. Art has gotten bigger. Private homes have gotten bigger, so there's a shift in scale.
Do you think New York's Chelsea or the art world in general has become too corporate?
The art world—with the exception of Sotheby's, which is a publicly traded company—has no corporations. This is a pretty fantastic industry. We're moving real money. But we're basically family-owned businesses that are free to react quickly. The art galleries have gotten bigger but not more corporate. We do a lot of silly stuff that shareholders wouldn't let us do. Like building a ridiculously gorgeous, expensive, and over-the-top building.
Is your business model unique from other galleries?
I hope it is. We're constantly tweaking it. I made a decision early on that I would bring some of the senior folks on as partners. And it's very important for me to have these partners to help me make decisions and grow the business.
Where do you think art is going right now?
The Internet is doing something to the consciousness of artists. It changes the way they interact with the world. I'm starting to see work where there's something radically new in the way images are produced. Some of it's in film and video, some of it's in photography, some of it's in sculpture. But we're on the cusp of something. The emotional quality around the Internet is nonexistent—that cold, cold, cold energy I've seen in some works of art recently.
The business has been on a roller coaster in recent years. Can you shed some light on that?
The art world has been almost ridiculously resilient. If I compare what happened in 2008 and 2009 to what happened in '91 and '92, it's like night and day. We had very good years in 2008/2009. They were good enough for us to take a big risk and buy this property. And we've had record years since. The art market is not just the trade of goods, it's a lifestyle. People will sell their stocks and their bonds, because it's just money. Their paintings, their relationships in the art world, are much more than that.
Are collectors like Steven Cohen pulling back—I mean, his personal situation …
I would say he's certainly a friend of the gallery, and I wouldn't want to talk about him in any other way than that. But this year he's been on record making some pretty important acquisitions. He bought [Picasso's] The Dream, which we assume is one of the most expensive paintings ever traded. Google it.
So, no pulling back?
It's definitely a major, major acquisition and a show of strength.
Is there any connection between the economic downturn and certain artists becoming less popular?
There's always some work that is full of speculative energy, where people are just buying it. They want to be part of it. They don't really look at it—they just feel it's a great asset. The artists have no control. And before you know it, you have highly inflated prices. Then you have a bust. And once prices go down, it's usually a self-fulfilling prophecy. It's unfortunate that people see prices go down, they want to sell.
Do you think that the contemporary art market is a bubble like subprime?
I look at objective criteria when we assess a career. If you find that you have no collectors of renown behind the work, very few museums interested but very, very high prices, you ought to be suspicious. We don't really have subprime. We have distortion.
You have three children. Would you want them to go into the art world?
It's funny. Ten years ago I would have said probably not. Let them do their own thing. As I'm maturing in the art world, I find it's a fantastic place for any young person. It's very stimulating. There are many different career paths. And you can make money.
Before it's here, it's on the Bloomberg Terminal.
LEARN MORE