Cars That Flunk Tougher Crash Safety Tests Have Plenty of Company
A new crash safety test has made it tougher for many vehicles to win top rating. So far, car buyers don't seem to notice.
By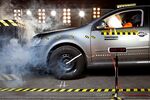 Results from the insurance industry's tougher front-end crash tests released today show that, of 12 small cars tested, only two versions of Honda Motor's Civic received a rating of "good." That might make some consumers think that the trailing automakers—fully half the cars tested scored "marginal" or "poor"—will have hell to pay. After all, bad safety news about pharmaceuticals or foods can quickly spark consumer flight. But when it comes to disappointing grades on crash safety report cards issued by the Insurance Institute For Highway Safety, auto buyers seem a lot more forgiving.