Cars That Flunk Tougher Crash Safety Tests Have Plenty of Company
A new crash safety test has made it tougher for many vehicles to win top rating. So far, car buyers don't seem to notice.
by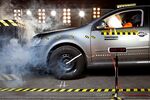 Results from the insurance industry's tougher front-end crash tests released today show that, of 12 small cars tested, only two versions of Honda Motor's Civic received a rating of "good." That might make some consumers think that the trailing automakers—fully half the cars tested scored "marginal" or "poor"—will have hell to pay. After all, bad safety news about pharmaceuticals or foods can quickly spark consumer flight. But when it comes to disappointing grades on crash safety report cards issued by the Insurance Institute For Highway Safety, auto buyers seem a lot more forgiving.
Toyota Motor's Camry, for example, in December flunked that same so-called small overlap test, receiving a poor rating, the safety group's lowest rank. This new type of test simulates what happens when about 25 percent of the front corner of a car traveling 40 miles per hour strikes another vehicle or an object like a tree or a utility pole. That kind of accident—which often causes the car to lurch and twist enough to push occupants away from the protection of many air bags—is responsible for about one-fourth of all serious injuries or deaths of front-seat occupants while driving.
Nonetheless, the poor showing didn't keep Camry, America's best-selling car for the past 11 years, from retaining its sales lead so far this year. In the first seven months of 2013, Toyota has delivered 242,406 Camrys, according to researcher Autodata. While that sales pace is down 0.6 percent from the same period of last year, it still gives Camry a 24,000 vehicle lead over Honda Motor's Accord. Likewise, such models as Ford Motor's Escape and Toyota's Prius v also received scores of poor and continue to be popular.
One reason vehicles seem to be having such a tough time with the new small overlap tests is because most of them are engineered with older crash tests in mind. Those tests simulate larger portions of the front of the vehicle hitting an object, and the structures of many cars are designed to absorb the impact from crashes that come full-on. Ditto for air bag placement: Many weren't designed to handle front corner impacts that spin a vehicle around.
The IIHS says automakers' front corner crash scores should improve as automakers redesign future models with the new tests in mind. "Manufacturers need to focus on the whole package," says David Zuby, the IIHS's chief research officer. "That means a strong occupant compartment that resists the kinds of intrusion we see in a frontal crash like this, safety belts that prevent a driver from pitching too far forward, and side curtain airbags to cushion a head at risk of hitting the dashboard or window frame."
Still, more recent designs don't guarantee strong performance in the small overlap crash test. In July, for instance, the insurance group gave Toyota's RAV4, a popular small SUV, a grade of poor on the test. The IIHS had issued results for 13 other small SUVs in May, but says it delayed reviewing the RAV4 until summer because Toyota was redesigning the vehicle at the time of the earlier testing. Of that group, 11 small SUVs were rated either marginal or poor in such crashes.
Before it's here, it's on the Bloomberg Terminal.
LEARN MORE