How to Snatch Summer Back From the Inexorable Jaws of Time by Desperately Cramming In Last-Minute Fun
by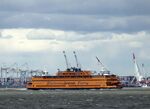 We hate to be the bearer of bad news, but summer's almost over.
In fewer than four weeks, shorts and sundresses will be folded up, grills will be put away, windows shuttered and boogie boards shelved. It's almost Christmas, basically.
We recommend you make the most of the high season while you still can. Here's a bucket list of things to do in New York City before the mourning bells of Labor Day call you back to your office, and another nine months of darkness and ice descend.
1. At this point, it doesn't make sense to buy a full season's tennis permit, but you can still get one-offs at Paragon and play for an hour or two on courts across the city. At $15 an hour it's the best deal in New York.
http://www.nycgovparks.org/facilities/tennis
2. The long line will convince you it's just for tourists, but trust us: renting a boat in Central Park is delightful. Take a long lunch and do it midday. http://www.thecentralparkboathouse.com/boats.php
3. Riding the Staten Island Ferry can be fun even if you don't have a place to go, but it's even better if you then bike to the excellent Jacques Marchais Museum of Tibetan Art. A gem of a collection in an unlikely place.
http://www.tibetanmuseum.org
4. There are a few food destinations, like Saraghina in Bed Stuy or Steve's Authentic Key Lime Pies in Red Hook, that are most fun to reach by bike. Take advantage of the weather and make an afternoon of it.
5. There are Summerstage outdoor concerts where you can also get surprisingly good food and drink from vendors like Pizza Moto and Blue Point Beers. http://www.cityparksfoundation.org/summerstage/
6. Get a car and drive an hour north to Storm King Art Center, the 500-acre monumental sculpture park. Pack a picnic to eat underneath a massive Mark di Suvero work.
http://www.stormking.org/
7. Eat as much ice cream as possible.Van Leeuwen has a great mint chip, A.B. Biagi is the best place in the city for gelato andAmple Hills has the best brownie sundae in NYC.
8. The Cloisters, on Manhattan's northern tip, is a bit of a schlep if you live downtown, but a fantastic bike ride along the river if you're up for it. Check out the magnificent Unicorn tapestries in celebration of the museum's 75th anniversary. http://www.metmuseum.org/visit/visit-the-cloisters
9. A lot of superb museum exhibitions close around Labor Day. Don't miss the two Civil War shows -- photography and painting -- at the Met . The Guggenheim has "The New Harmony: Abstraction Between the Wars," while the Museum of Modern Art is showing a lovely exhibition of Ellsworth Kelly's Chatham Series.
10. Finally, an essential part of a well-rounded summer: drinking outdoors. Spuyten Duyvil in Williamsburg has a great outdoor beer garden, Anotherroom in TriBeCa has picnic tables set up on West Broadway, and while A.O.C. falls more into the restaurant category, no one seems to mind if you wander in to have a drink in their lovely West Village garden.
James Tarmy reports on arts and culture for Bloomberg Muse, the arts and leisure section of Bloomberg News.

Before it's here, it's on the Bloomberg Terminal.
LEARN MORE