Goldman to Axa Ride London's Crossrail Office Boom
Neil Callanan and Patrick Gower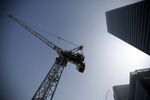 London's high-speed rail project is helping to drive an office-building boom on the City of London's western edge as investors rejuvenate aging sites like Smithfield Market near future transport hubs.
Henderson Global Investors Ltd. is transforming Smithfield, a meatpacking center for centuries, into a sleek office block while a state-of-the-art Crossrail station is built at Farringdon about a minute's walk north. Goldman Sachs Group Inc., Axa SA and Land Securities Group Plc also own properties on the western fringe of the financial district.
The area's developers are benefiting as technology, media and telecommunications companies seek new and refurbished buildings, according to Clive Castle, a Henderson director who manages the firm's commercial real estate in London. "That's helped to compensate for the weakness of demand from the banking and financial sector," he said.
Crossrail, Europe's largest construction project, costing an estimated 15 billion pounds ($23 billion), will cut commuting times by as much as half, enticing tenants to rent offices in once-overlooked corners of the City. Plans for buildings from Farringdon through Smithfield to the Thameslink overland rail station to the south represent the City's biggest development pipeline since 2011, when a cluster of towers went up near the Lloyds of London insurance building, said Peter Rees, the City's planning officer.
Amazon.com Move
Axa has already benefited from demand for space by technology companies. Amazon.com Inc. earlier this year agreed to lease a property built by the French insurer's real estate unit less than a five-minute walk from Farringdon Station. Employment in central London's technology, media and telecommunications industries will rise to 306,000 through this year, from 259,000 in 2007, according to a June forecast by Dmitriy Gruzinov, an economist at Oxford Economics.
Rents for the best buildings south of Farringdon are now about 47.50 pounds a square foot, up from 42.50 pounds last year, according to an estimate in July by broker Jones Lang LaSalle Inc. That compares with the 95 pounds paid in London's West End and 55 pounds in the center of the City, the broker said in a May report.
It's not just low rents that are attracting technology companies. Farringdon and the adjacent Clerkenwell area are considered a trendy neighborhood, with design studios, artists' workshops and galleries as well as clubs, bars and restaurants, including celebrity chef Fergus Henderson's nose-to-tail eatery, St. John, at Smithfield.
Fish Market
Henderson Global's 160 million-pound Smithfield project will include 16,260 square meters (175,000 square feet) of offices and 5,570 square meters of shops beside the meat and poultry market. Most of the site's Victorian buildings and all of the former fish market will be retained.
Helical Bar Plc and affiliates of hedge fund Baupost Group LLC won approval in November to develop about 21,400 square meters of office space near St. Bartholomew's Hospital to the east of the Crossrail station at Farringdon. A unit of Blackrock Inc., the world's largest asset manager, has since acquired a 5 percent stake in London-based Helical Bar, the New York-based firm said on Aug. 1.
The area is already producing gains for companies that have started building. The value of Great Portland Estate Plc's office building on New Fetter Lane rose more than 67 percent in the three months through June after it rented all of the space prior to completion to law firm Bird & Bird LLP.
The building is expected to provide a 33 percent "profit on cost" when it's completed, Great Portland said in a July 25 statement. The London-based developer raised its forecast for potential gains from projects under construction to 41 percent from 34 percent because of the building.
Crossrail Benefits
Farringdon isn't the only part of London set to reap benefits from the modern transport links. Crossrail may add as much as 5.5 billion pounds to the value of real estate throughout the U.K. capital, according to a study by property consultant GVA Grimley Ltd. commissioned by Crossrail.
Crossrail will completely rewrite the landscape of London's historic markets of West End, Midtown and the City in the next three years, James Lock, a managing director at Blackstone Group LP's real estate unit, said in an interview.
"It will be a central London market and rightly so," Lock said. "There shouldn't be this distinction, just because of certain historical boundaries, between whether you pay 55 pounds a square foot in Midtown or whether you know to pay a 10 percent discount or premium east or west of that."
The city's traditional divisions remain relevant today. No office tenant has yet moved into the Shard skyscraper, western Europe's tallest building, more than a year after the tower in the London Bridge neighborhood south of the River Thames was completed. Construction of the Pinnacle, a 1 million square-foot office tower near Liverpool Street rail station in the City, has stalled for more than a year.
Skyscraper Stall
Developers that instead chose to build towers near the City of London's insurance district have fared better. Insurance companies have sought space near the Lloyds of London building because they typically go to the site to get customized quotes.
Insurers accounted for 20 percent of all office space that companies agreed to lease in the 12 months through March compared with about a 5 percent average in the two years through 2007, according to data compiled by Jones Lang. Banks represented just 17 percent of office deals last year, compared with an average of 28 percent in the five years through 2007, the broker said.
Among the projects that have secured tenants is the skyscraper that Canary Wharf Group Plc and Land Securities are building at 20 Fenchurch Street in the City, nicknamed the Walkie Talkie. More than half of the space has been leased in the building, which is due to be completed next year.
Oxford Street
London will get nine new Crossrail stations, including one at Tottenham Court Road, where Land Securities and Derwent London Plc are buying land and developing offices and residential space. Land Securities and a venture partner won support from planning officials to build stores and 18 apartments on Oxford Street near the entrance to the Tottenham Court Road station.
Land Securities is also betting on the corridor between Farringdon and City Thameslink. The U.K.'s biggest real estate investment trust is developing a 260 million-pound project opposite the overland rail station without a tenant in place.
Land Securities Chief Executive Officer Rob Noel said developing in the City can be risky and investors need to be cautious that the buildings they plan don't become too expensive as construction costs rise. The company is pleased it already agreed on a fee for the property's construction rather than later this year because building costs may go up, he said in an interview last month.
'Too Expensive'
"People overpay for sites because they think rental revenue is going to keep going," Noel said on a call with analysts in May. "They don't take into account that buildings get expensive -- too expensive -- to build. We're not nearly at that stage yet, but it's going to come."
Developers have become more willing to risk constructing office buildings without having a tenant to occupy the space, broker Knight Frank LLP said in a report yesterday. The amount of office space in central London being built without an occupier agreeing to lease it prior to completion rose 9 percent to 6.4 million square feet in the second quarter, the broker said.
Land Securities may benefit from a gain in value of 20 percent when its New Ludgate project is completed in 2015 and an additional 20 percent profit on a 150 million-pound office building it's developing about a minute's walk from the site that Goldman Sachs bought in the area, JPMorgan Chase & Co. analysts including Harm Meijer wrote in note to clients in June.
Goldman Site
Goldman Sachs affiliates won planning approval for an office building of about 111,300 square meters on Farringdon Street in March. It may be used as Goldman's new London headquarters, though no final decision has been made, according to a person familiar with the matter. Jo Carss, a spokeswoman for the New York-based investment bank, declined to comment.
Goldman plans to demolish the existing properties and develop a glass-fronted and curved building on the site designed by Kohn Pedersen Fox. Projects "such as these are often the catalyst for further development and regeneration," Bill Pedersen, a principal at the architecture firm, said in a filing with the City of London.
Goldman's employees would be able to reach Heathrow Airport from Farringdon in about 30 minutes on Crossrail, compared with more than an hour on the London Underground. Travel to east London's Canary Wharf financial district will take 9 minutes, from about 25 minutes today. The City Thameslink system already takes passengers to Gatwick Airport to the south and Luton Airport north of the City.
"That's what makes this the crossroads of central London," Rees, the City's top planner, said in an interview.
Before it's here, it's on the Bloomberg Terminal.
LEARN MORE