Report Slams 'Lavish' Travel by UCLA B-School Dean
Louis Lavelle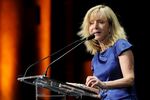 The dean of UCLA's Anderson School of Management spent more than $200,000 of university money on airfare since 2008, including premium tickets because of an unspecified medical condition that, according to University of California rules, allowed her to fly business class on longer flights.
A report by the Center for Investigative Reporting, which covers 17 UCLA academic deans who spent a combined $2 million on travel and entertainment from 2008 to May 2012, was particularly critical of Anderson's Judy Olian, whose "lavish" spending included a 2010 flight to Washington, D.C., and Asia that cost the university $12,000.
In all, Olian spent $647,000 on meals, lodging, registration fees, car service, airfare, and other expenses, according to information obtained through a public records request, CIR reported: of that amount, $296,000 was spent on premium airfare, under an exception to the University of California's ban on business or first-class flights for employees with a medical need. UCLA disputes CIR's figure, saying the total cost to the university of all of Olian's airfare from January, 2008, through June, 2012, was $212,000. CIR estimates that for all the UCLA deans with medical exemptions economy-class tickets would have cut travel costs in half.
During the four-and-a-half year period examined, Olian, 61, at least twice did the bicycle leg of Monterey County's Wildflower Triathlon,a 56-mile route up a grueling 5-mile hill that climbs 1,000 feet. In April 2011 she took part in the race as part of a university-sponsored team, according to CIR.
Over the same period, the dean of the Haas School of Business at the University of California, Berkeley, Richard Lyons, spent $107,000 on travel and entertainment, about one-sixth of Olian's total. CIR says Lyons booked premium-class international flights eight times during the four-year period citing a nonmedical exemption, the need to rest before starting work immediately upon landing.
Olian declined to comment, and both Anderson and UCLA would not disclose the medical condition used to justify the premium travel. Anderson spokesperson Allison Holmes told Bloomberg Businessweek that Olian's medical condition allows her to bike. Anderson maintains that outside organizations have reimbursed, or will reimburse, the school for about $100,000 of Olian's travel and entertainment expenses.
Holmes says Anderson relied on tuition revenue and donations—not state funding—to foot the bill for Olian's travel and entertainment, adding that such expenses are needed for fundraising, engaging with alumni, launching new academic programs, and attracting international applicants. Over the same period, Holmes said, Olian has raised $118 million, much of it in anticipation of the school's full-time MBA program becoming self-supporting. Says Holmes: "That's incredible return on investment by any measure."
Tuition for Anderson's full-time MBA program for California residents has increased about 33 percent since 2009.
Dianne Klein, a spokesperson for outgoing UC President Mark Yudof, referred all questions to UCLA.
Join the discussion on the Bloomberg Businessweek Business School Forum, visit us on Facebook, and follow @BWbschools on Twitter.