Paterniti Tracks Down $22 Cheese Which Comes With a Tale
undefined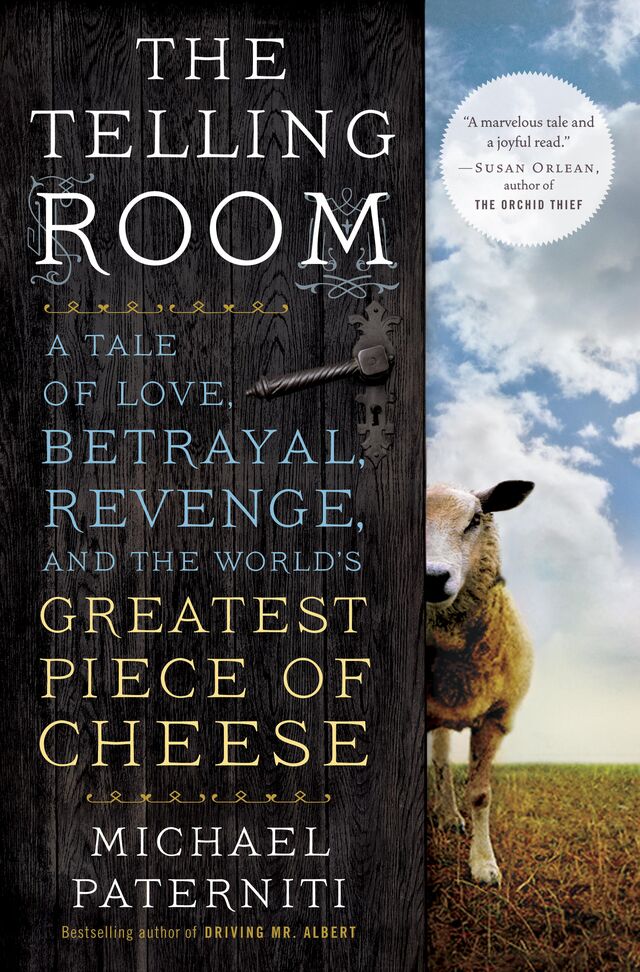 For a few nerve-wracking days in December, it looked as if lovers of the $500-a-pound Serbian donkey's milk cheese called "pule" were out of luck. Tennis pro Novak Djokovic had bought up the world's supply, the news media reported -- erroneously, as it turns out.
Pule and Djokovic inhabit a footnote in Michael Paterniti's "The Telling Room," which recounts his obsessive pursuit of the story behind another cheese. The sheep's milk Paramo de Guzman, a mere $22 a pound, caught his eye while he was in graduate school at the University of Michigan in 1991.
Ten years later Paterniti was a freelance writer whose research for an article on the Catalan chef Ferran Adria offered him a chance to visit the Castilian village of Guzman and cheese maker Ambrosio Molinos de las Heras. Thus begins an entertaining olio of anecdotes, fables, lore, facts, gossip and family legends that all just about fit under the capacious haiku of Paterniti's subtitle: "A Tale of Love, Betrayal, Revenge and the World's Greatest Piece of Cheese."
Ambrosio's farming family stopped making their "house cheese" as they tightened belts during Spain's economic woes in the 1950s. He revived it some 30 years later because it struck him as the right thing to do, as one more way to preserve Castilian traditions.
Old Flavors
"Perhaps in the United States you don't know what it's like to have old flavors," Ambrosio says. "Flavors from the past, from centuries before. But we live with them every day here ... My mission is to make sure we don't forget the old way."
After much trial and error, Ambrosio created something that evoked the family's house cheese while also flying off the shelves. The word quickly traveled from his village to Madrid and "from Madrid to London, where it was sold at Harrods." It reached a deli in Ann Arbor, Michigan, whose owner described the flavor as "rich, dense, intense; a bit like Manchego."
Among its fans were Ronald Reagan, Frank Sinatra, Mikhail Gorbachev and Fidel Castro. When Ambrosio's father got his first taste of the new Paramo, he was moved to declare: "Me cago en la leche de Dios,'" which can be politely translated: I defecate in the milk of God.
Trusted Friend
By the time Paterniti arrived in Guzman, however, Ambrosio was no longer making his sheep cheese. The two men sat for eight hours as Ambrosio told the first of countless stories, about how he trusted his childhood friend Julian, a successful lawyer, to advise him on expanding his cheese operation and how Julian tricked him into signing over control to outside investors.
As the book winds down Julian provides his version of events. In between, Paterniti weaves into the saga of the toothsome cheese the tale of a freelance writer who struggles for years to finish a book that resists anything simple in the way of structure or resolution.
In his first book, "Driving Mr. Albert," Paterniti also made himself inseparable from the story -- as the driver on a road trip across the U.S. in a car bearing Einstein's brain and the man who had purloined it 40 years earlier.
He couldn't have done otherwise in "The Telling Room." By absorbing and being accepted among the 80 souls of Guzman, he gains access to their feuds and fears and stories, especially the one about the curds and whey that put them on the map.
"The Telling Room" is published by Dial (349 pages, $27). To order this book in North America, click here.
(Jeffrey Burke is an editor with Muse, the arts and leisure section of Bloomberg News. The opinions expressed are his own.)
Muse highlights include Zinta Lundborg's NYC weekend and a Lewis Lapham podcast.
Before it's here, it's on the Bloomberg Terminal.
LEARN MORE