Barrick Takes Writedown, Cuts Dividend as Gold Declines
Liezel Hill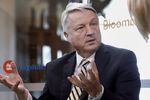 Barrick Gold Corp., the world's largest producer of the precious metal, took $8.7 billion of writedowns and cut its dividend after gold prices fell.
Barrick posted a second-quarter net loss of $8.56 billion, or $8.55 a share, compared with net income of $787 million, or 79 cents, a year earlier, the Toronto-based company said today in a statement. The miner said it reduced its quarterly payout to 5 cents a share from 20 cents to improve liquidity.
"This is the prudent course of action," Chief Executive Officer Jamie Sokalsky said in the statement. "We recognize the importance of dividends to our shareholders, and it is our goal to return more capital to investors in the future."
Gold-mining companies have announced at least $21 billion of writedowns in the past two months after the metal's steepest quarterly drop in London trading in more than nine decades. Barrick wrote down the value of its delayed Pascua-Lama mine in the Andes by $5.1 billion and took impairments on other assets including goodwill and a copper mine in Saudi Arabia.
Sokalsky is reviewing Barrick's operations and selling assets after the shares dropped 48 percent in the 12 months through yesterday. Even after gold's decline, producers are trading near their cheapest relative to the metal in at least 29 years, according to data compiled by Bloomberg.
Costs Lower
Barrick rose 2.7 percent to C$17.46 in Toronto after the company reported sales and earnings excluding one-time items that surpassed analysts' estimates.
"The beat on the quarter combined with reduced cost guidance demonstrates that despite all of the Pascua-Lama issues, ABX's underlying operations are performing well," Greg Barnes, a Toronto-based analyst at TD Securities Inc., said in a note, referring to Barrick by its trading ticker.
Profit excluding impairments and other one-time items was 66 cents a share, ahead of the 56-cent average of 17 estimates compiled by Bloomberg. Revenue fell 1.3 percent to $3.2 billion, compared with the $3.18 average of seven estimates.
Second-quarter gold production of 1.81 million ounces, compared with 1.74 million ounces a year earlier. The average of 11 estimates was for 1.78 million ounces.
The cost to produce an ounce of gold fell to $552 from $591, beating the $647 average of 10 estimates. All-in sustaining costs, a more comprehensive metric recently introduced by gold producers, were $919 an ounce.
Target Abandoned
The company said it has abandoned a production target of 8 million ounces a year by 2016 because of the delay at Pascua-Lama, expected mine-plan changes and potential asset sales. Barrick said it's reviewing operations to prioritize cash flow over production levels.
Barrick has reduced capital spending forecasts for this year to $4.5 billion to $5 billion, from as much as $6.3 billion previously. It also reduced production-cost forecasts to a range of $900 to $975 an ounce, from $1,000 to $1,100.
"The bulk of our expected 2013 gold production is at all-in sustaining costs well below current spot levels," Sokalsky said in the statement. "For those operations that are not generating positive cash flow, we will change mine plans, suspend, close or divest them."
Barrick is reviewing mine plans at operations including Round Mountain and Bald Mountain in Nevada, and may explore "other alternatives" for the Porgera mine in Papua New Guinea, the company said. It's also assessing options for the closing of Pierina in Peru.
Court Injunction
The company said it expects increased capital costs for Pascua-Lama, on the border of Chile and Argentina. Construction on the Chilean side has been halted since April, after a court accepted an injunction filed by indigenous communities and the country's environmental regulator later ordered work to protect water supplies before the project can restart.
Barrick, which raised the cost estimate for the mine twice last year, to as much as $8.5 billion, said June 30 it now expects first production from the mine in mid-2016, compared with a previous target of the second half of 2014.
Gold-mining companies need to "clear the decks," Kenneth Hoffman, a senior metals analyst at Bloomberg Industries, said by e-mail yesterday. "Taking write-offs and shutting high cost mines is a start, next is repositioning the industry again as an asset class worth looking at."
Gold, which rose for 12 consecutive years, slipped into a bear market in April and dropped 22 percent this year through yesterday in New York. The average price during the second quarter was $1,417 an ounce, 12 percent less than a year earlier.
Before it's here, it's on the Bloomberg Terminal.
LEARN MORE