Who Needs Sports Announcers?
The New England Patriots and Detroit Tigers are inching away from an outdated industry standard.
by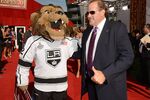 Yesterday brought two pieces of good news from the world of sports broadcasting. The New England Patriots announced that the team plans to abandon standard play-by-play announcing during the latter parts of preseason game TV broadcasts in favor of a "talk-radio-type program without the yelling and the screaming and the agenda-driven stuff." And Fox Sports Detroit aired a Tigers game against the Washington Nationals with no announcers at all, just the "Natural Sounds at Comerica Park." (The quiet version was on an alternate channel. Fans who wanted to hear talking still could.) Both are minor moves mainly of interest to local fans, but, hopefully, they are also signals that teams, leagues, and networks are beginning to rethink their approach to the broadcast booth.
Sports fans have been bellyaching about sports announcers for almost as long as smooth baritones and retired jocks have been sitting behind microphones. For most of that history, producers have treated jeers as evidence that people were paying attention—better to have angry viewers than no viewers. In 1980, NBC took the complaints to heart and offered a late-season NFL clunker without commentary. That short-lived experiment came before the Web and the smartphone and a massive proliferation of options in sports viewing. Fans now expect to be able to watch out-of-market games, to see them on all manner of devices, to instantly interact with each other from their couches, and even to choose which camera to follow. The option to tune out the announcers without muting all the sound seems like a natural addition to this ever-expanding menu.
The problem is that cutting the feed from the booth also means cutting down egos and cutting into advertising reach. If you're not hearing Tim McCarver recite the lyrics to Metallica's Enter Sandman, then you're not hearing Joe Buck tell you which beer brand is bringing you the game. That's part of the reason the "Natural Sounds of Comerica Park" can be found on a premium tier sports channel. Fans are already paying extra for that feed. Going announcerless is akin to skipping commercials, and broadcasters and carriers are going to want to find a way to replace the lost revenue. How much are you willing to pay for the crack of the bat, the squeak of sneakers, the crunch of helmets, and the silence of Chris Berman?
Before it's here, it's on the Bloomberg Terminal.
LEARN MORE