Who Needs Sports Announcers?
The New England Patriots and Detroit Tigers are inching away from an outdated industry standard.
By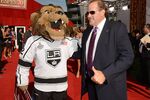 Yesterday brought two pieces of good news from the world of sports broadcasting. The New England Patriots announced that the team plans to abandon standard play-by-play announcing during the latter parts of preseason game TV broadcasts in favor of a "talk-radio-type program without the yelling and the screaming and the agenda-driven stuff." And Fox Sports Detroit aired a Tigers game against the Washington Nationals with no announcers at all, just the "Natural Sounds at Comerica Park." (The quiet version was on an alternate channel. Fans who wanted to hear talking still could.) Both are minor moves mainly of interest to local fans, but, hopefully, they are also signals that teams, leagues, and networks are beginning to rethink their approach to the broadcast booth.