How Google Has Completely Botched Zagat
by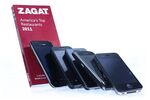 Since being acquired by Google in 2011 for $125 million, Zagat has been in turnaround. That changed Monday when Google reintroduced Zagat to the world as a free site and mobile app for Android and iOS. But today the world needs another restaurant app like it needs another 11-course tasting menu. I currently have six dining-related apps on my phone—already more than I need. Do I really need another?
It's a tough sell to begin with, and the Zagat app lost me at the welcome screen. It opens with tiles of dining stories like "Post Exhibition Eats: Great Restaurants Near the Met" and "Behind the Top-Rated Sushi at Austin's Uchi."
There are two problems with this. First, why am I seeing news about an Austin (Tex.) restaurant? Maybe it's a bug? But maybe it isn't: Other stories seem just as out of place. "Rosé for Every Mood: What to Bring to Any Summer Occasion" is odd in an app about restaurants, no? This all falls under the "New York City" tab; it's not like I'm in some generic "national" category or anything.
But the second, and bigger, problem is this: When I used to go to my old Zagat app, it was very clear I was there to find a place to eat. This new start page on Zagat presumes that I want to read some stories and listicles about restaurants instead. If this were the case on Zagat's website, I could be more forgiving; it's not uncommon today to see content on a site that's about a search or some other transaction—just look at LinkedIn.
But this is a mobile app, for the love of Mike. Isn't it patently obvious that, if I'm firing up a mobile app about restaurants, I am probably looking for one? Even clicking on the little menu button in the upper left doesn't get you to any sort of sortable search feature like the old Zagat app. I tapped on "Lists," thinking I'd find those "Best Italian/Best Steakhouse/etc." lists that I used to consult from time to time in the back of an old Zagat book. Nope. Instead, I get "Best Sushi Restaurants in 8 U.S. Cities." I'll remember that the next time I'm planning an eight-city sushi tour.
There are other categories in the menu tab, such as "Videos," which serves up offerings like "Ace of Cake's Duff Goldman Talks Cronuts, Chocolate Gold and Breastmilk Lollipops." You could also just pump your stomach for the same effect. Is the Zagat app some elaborate weight-loss scheme to make us not eat?
This would be merely funny if the rest of the restaurant-review app scene wasn't so robust. I regularly use OpenTable to not only reserve tables, but also jog my memory on where to eat. If I'm going out in New York, I may check out Immaculate Infatuation's app, which has clever-but-useful "perfect for" filters like "Laughing at Euros in Crazy Outfits" and "Day Drinking." Locally or when I'm traveling, I'm a huge fan of Eater's new iOS and Android apps, which feature the site's "38 Best Restaurants" and "Heatmaps" franchises in dozens of cities.
And I haven't even gotten to Yelp or TripAdvisor, which in their native state are almost too big, but both let me integrate my Facebook friends in the mix, so I can see where people I know have eaten and reviewed. That also brings up Foursquare, which I don't use for social purposes at all (the idea of running into someone seems horrific to me), but I do like to know where my friends go, and I can do that with the app's "explore" feature.
Or, after it's all said and done, I may just fire up Google Maps and see what's nearby. Which kind of obviates the need for Zagat, doesn't it? Unless breast-milk lollipops are your thing—they've got that story on LOCK.
Before it's here, it's on the Bloomberg Terminal.
LEARN MORE