Margarine: Unilever Can't Believe It's Not Selling
By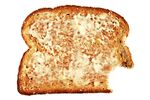 Unilever's business in spreads looks about as solid as warm margarine. The spreads category includes such unsung staples as butter, peanut butter, cream cheese, Marmite, even Nutella—you see how this works. Spreads make up 7 percent of sales at Unilever, and the consumer-goods conglomerate is focused heavily on butter substitutes—so the spread sadness seems to be largely a story of margarine in decline. The company sells the stuff under a dizzying array of brand names—I Can't Believe It's Not Butter, Country Crock, Imperial, Brummel & Brown, Promise, Becel, Flora, Rama, and Blue Band, among them—and there's little upside in the lot.
Last week, when Unilever reported a 1 percent drop in sales volume for all its food products over the first half of the year, the company noted the particular pain caused by "a decline in spreads" and singled out some problems with margarine as the culprit. Consumers didn't like the taste of certain brands (Flora, in particular, isn't fooling anyone into thinking it could be butter), rivals have been competing on price, and shoppers prefer natural products now that man-made fat has come to seem like a superfluous idea. While growing health awareness may be one factor, consumers don't appear to be categorically averse to buying fat—sales of Unilever's Hellmann's products are growing. A wide range of nonbuttery alternatives are vying for toast-topping privileges, too, including the fast-growing hummus segment. These are problems that even Fabio's flowing locks would be powerless to fix.
Perhaps this is more of a Unilever problem than a worldwide margarine rout. While global sales of butter and spreadable oils ticked down in 2012, according to data from Euromonitor International, margarine sales managed to post an increase of 1.1 percent. But sales of one of Unilever's biggest U.S. brands, I Can't Believe It's Not Butter, fell 3.9 percent to $418 million.
Unilever Chief Executive Paulus Gerardus Polman said during last week's earnings call that turning around the spreads business requires more than competing on price. "It is about getting the right taste," he explained. "And it is about the perceived naturalness of our products." What Unilever sees as its "better-tasting products," such as Becel Gold, are being introduced in more markets and "are doing well," Polman said. The company also plans to improve the marketing of its spreads as "the healthy alternative to butter," he noted. Unilever didn't respond to a request for comment.
Polman says he sees the spreads business improving even as it remains "a tougher market." So dry those greasy tears.