This Thing Won't Play Second Fiddle. What Makes a Strad a Strad
by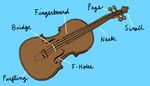 Loot recently found itself a houseguest alongside Nicholas Mann, chair of the string department at the Manhattan School of Music and co-founder of the Mendelssohn String Quartet.
Mann plays a Stradivarius, the Marquis de Villefranche, made in 1729.Listening to him practice , Loot recognized that the sound was fantastic. But what makes Stradivarius a synonym for amazing violin?
First, Mann says, there's the craftsmanship. "Look at the f-holes, the scroll, and the purfling," the dark channel dug along the edges of the violin, he said. "Most makers center the purfling, but Stradivarius, for aesthetic purposes, angled it off-center."
What about the bridge, the strings, the pegs? Not so important.
"The neck isn't original, the fingerboard has been changed, we use different strings, the sound post has been replaced many times," Mann says. "But the basic instrument, the parts that matter, are the same as when he made it."
Mann is referring to where the sound comes from -- the body. The back of a violin is always a hardwood, and the front, where the f-holes are cut, is usually a softwood, like a spruce.
So there's no "Stradivarius sound"? Not at all, Mann said. "There are maybe 500 Stradivariuses in the world at the moment, and each has its own voice."

The Strad is so coveted simply because almost every instrument the man made was superlative in sound and style, Mann says.

Mann declined to give his own fiddle's value, but a Strad broke a record at auction in 2011, selling for $15.9 million .
"Yes, it has a collector's value, but it's also my livelihood," he says. "There's value on both sides of the equation."

James Tarmy reports on arts and culture for Bloomberg Muse, the arts and leisure section of Bloomberg News.
Before it's here, it's on the Bloomberg Terminal.
LEARN MORE