business
Dunkin' Takes 45 More Steps Toward 1,000 California Stores
By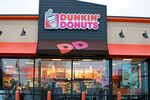 Forty-six down, 954 to go. In its march to 1,000 stores in California, Dunkin' Donuts on Thursday announced that four franchise groups had signed agreements to develop 45 of its restaurants in Southern California, radically expanding the chain's footprint in the state beyond a single outpost on a Marine Corps base near Oceanside. The first few are expected to open in 2015 in Orange and Los Angeles counties, though some stores inside other establishments (universities, casinos, supermarkets, airports, and the like) may open sooner.
Where will Californians be able to get a Munchkin? Although franchisees select the sites, they must obtain approval from the company, which offers guidelines: Stores should locate in areas with a median household income of $30,000 or more and, if they're in the suburbs, be within a three-minute drive for 15,000 people or a five-minute drive for 25,000 people, according to materials for franchisees (PDF). Also, new locations should be off a road with an average daily traffic count of 20,000. In other words: There are plenty of options.
In April, Bloomberg Businessweek reported that Dunkin' Donuts planned to expand in California, starting with 150 to 200 stores in the south by 2020. At the time, a representative told us it "eventually" plans to have 1,000 stores in the state. In an interview with CNBC on Thursday morning, Dunkin' Brands Chief Executive Officer Nigel Travis wasn't any more specific, saying only that that was a goal "over time."
Dunkin's 1,000-store vision is ambitious. It's also not the brand's first attempt to win over Californians. It had about a dozen stores in California until it pulled out in the late 1990s, and made a short-lived effort to reenter Sacramento in 2002. Travis blamed inadequate franchisee support and "world-class bad" training. As of now, about 85 percent of the chain's 7,300 domestic stores are still in or around the Northeast.
A bigger question: Are Californians ready to swap their wheatgrass for a doughnut? If the rest of the country is any indication, they just might be. Dunkin' reported that interest in its coffee, breakfast sandwiches, and doughnuts continues to be strong, with U.S. same-store sales up 4 percent in the second quarter. The company attributed this to the popularity of its beverages (particularly cold ones) and breakfast sandwiches, as well as growth in sales of doughnuts, wraps, and bakery sandwiches.
Before it's here, it's on the Bloomberg Terminal.
LEARN MORE