Sandbags Show Egypt Islamists Digging in Amid Protests
Maram Mazen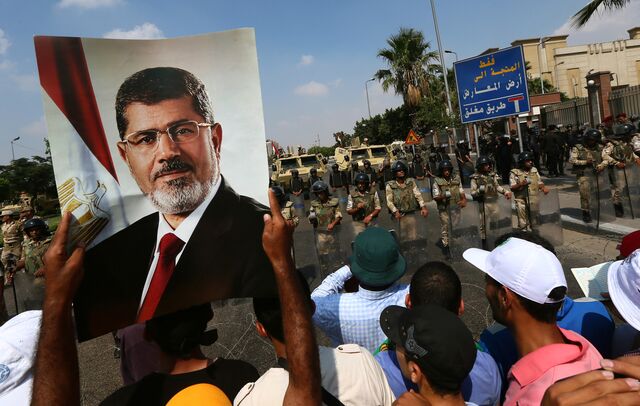 Men in orange vests wielding wooden sticks guard the Cairo sit-in which thousands of Islamists say will only end when deposed Egyptian President Mohamed Mursi is reinstated.
Behind them, protesters have built brick barriers and stacked sandbags to repel any attacks, a prospect that became more likely after military chief Abdelfatah al-Seesi called for rallies today in support of a crackdown on Islamists. Doctors in five field clinics tend to anything from gunshot wounds to infected tonsils. A communal kitchen goes through five calves a day to prepare free meals for those holed up.
Mursi's Muslim Brotherhood is using the sit-in site in Nasr City as a staging ground for protests that have thwarted efforts by the military-led coalition to bring the stability it pledged after toppling the Islamist leader on July 3. Tens of thousands of people joined the protests today amid warnings that mobilization by the two foes risks dragging Egypt deeper into conflict. At least 24 people were injured in clashes in Cairo and the Delta province of Damietta, the Health Ministry said.
"Not only we are continuing our sit-in, our determination has grown stronger," Wael Yehia, who heads a makeshift media center at the site, said yesterday.
The influx of Islamists to the sit-in has emboldened the Brotherhood to spurn offers to join the interim government even after dozens of supporters were killed in clashes over the past four weeks. Without a negotiated resolution to the standoff, the country is "likely to continue to be mired in one political crisis after another," said Yasser el-Shimy, an analyst at the International Crisis Group in Cairo.
Default Risk
The crisis complicates efforts to reduce record unemployment and revive an economy stuck in the worst slowdown in two decades. Egypt's default risk default risk has climbed 121 basis points, or 1.21 percentage points, to 776 yesterday since reaching a seven-week low on July 12, data compiled by Bloomberg show.
In relying on street mobilization, the Brotherhood draws on decades of experience as a persecuted opposition group able to deploy loyal supporters such as Emad el-Shershaby, the bearded man in charge of one of the kitchens feeding the protesters at the sit-in.
"We'll stay here as long as it takes," el-Shershaby, 44, said on July 22, standing beside stacks of rice bags as three of his assistances stirred massive pots of pasta and meat. "We rely completely on donations and we feel support is rising."
Militant Attacks
Not everybody is supportive. "We're growing very tired of this," said Ramy Johnny, a resident of the neighborhood, who complained about the cleanliness of the area, and said he's afraid from a possible attack by the protesters.
In an attempt to ease these concerns, organizers of the sit-in say they have started to clean the square and are offering residents free health care in the makeshift clinics. Johnny, an information technology engineer, said he still wants them out. "I hope the armed forces would be able to negotiate a peaceful departure," he said.
The military took Mursi into custody after hundreds of thousands of Egyptians took to the streets demanding an end to his one-year rule over what they said was his focus on consolidating his grip on power. Defense Minister al-Seesi on July 24 urged Egyptians to stage peaceful rallies giving the army a mandate to root out violence and terrorism.
'Terrorizing People'
Opponents of the Brotherhood, including youth groups and secular-leaning parties, accuse Islamists of deadly violence, including a surge in militant attacks in Sinai against military and police positions. A number of armed supporters of Mursi were detained this week as they tried to attack a rival sit-in in Tahrir Square, the heart of the 2011 uprising that toppled Hosni Mubarak, state-run media reported.
Egyptians "won't let their country become a fertile land for terrorism which would threaten the world after that," said Wahid Abdel Meguid, a member of the National Salvation Front, an umbrella of anti-Mursi opposition groups.
"What we have witnessed in the past days wasn't peaceful. We have seen armed groups blocking streets and terrorizing people," he said. Tamarod, the youth group that helped mobilize the protests that eventually led to Mursi's ouster, rejects calls to "reconcile with terrorists," spokesman Mohamed Abdel Aziz told a news conference yesterday.
Egypt's top prosecutor this week issued arrest warrants for nine senior Brotherhood officials, including supreme leader Mohammed Badie, in connection with allegations of stoking unrest and inciting violence. Judicial authorities meanwhile accused Mursi of conspiring with the Palestinian militant group Hamas and murdering and kidnapping Egyptian soldiers, state-run media reported today.
Cool Water
Some of the group's wanted leaders were seen at the sit-in site in Cairo this week rallying supporters against the military in speeches from a stage set up in the middle of the square. Organizers spray cool water on protesters to ease the summer heat. Others hung pictures on tents and lampposts of some Islamists who were shot dead by security forces in a July 8 clash outside a Republican Guard compound in Cairo.
"While the Brotherhood was incompetent in governing the country, they're very successful in mobilizing their supporters," said Omar Ashour, a senior lecturer in Middle East politics at the University of Exeter and a fellow at the Brookings Doha Center. Some, like 36-year-old Ahmed Helmy, didn't need much convincing to know who to blame for Egypt's plight.
"The military has one job which is to protect the borders and protect us, not to rule us -- we're not in a prison," Helmy, who brought his wife, sister and five children to the protest, said. "Is it always going be be like this? Each president comes for a few months or a year and a group doesn't like him and topples him? This wouldn't be a state."
The power struggle between the Brotherhood and the military dates back to 1954 when then-President Gamal Abdel Nasser clamped down on the group after accusing it of an assassination attempt. Successive governments at times tolerated the group and at times cracked down on its leaders, sending them to prison and confiscating their financial assets.
Now back at loggerheads after Mursi's removal, the Islamists will likely seek to prolong the standoff "to ensure they're not excluded and repressed," Ashour said. "That's their only route now."
Before it's here, it's on the Bloomberg Terminal.
LEARN MORE