OnStar, Garmin Try to Keep Pace With Waze, Other Free Navigation Apps
OnStar and Garmin confront a market full of free mapping apps
By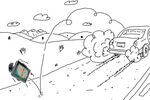 When Tim Nixon's sons want to figure out how to get somewhere in their cars, they turn their iPhones sideways, attach them to their windshields with a suction cup, and turn on a free downloadable mapping app. For their father, that's a sign that he has a problem. As chief technology officer of General Motors' OnStar service, he sells dashboard navigational systems for $1,500 or more. "We've historically had these onboard, embedded nav systems," he says. "That's just not going to cut it anymore."
Since the U.S. government made an accurate GPS signal available to civilians in 2000, navigation system makers such as OnStar, Garmin, and TomTom have enjoyed tremendous success. One in four U.S. cars now comes with a navigation system, according to consultant IHS Automotive, which estimates that global installations will hit 13.8 million this year. By bundling them with expensive options such as leather seats, sunroofs, and high-end audio systems, automakers charge from $500 to more than $2,000 for navigation systems.
Companies such as Garmin price their standalone products in the hundreds of dollars, but GPS devices at any price are vulnerable to smartphone and tablet apps that are easier to update, can provide more traffic information, and in many cases are free. Device companies and carmakers are scrambling to make their products more Internet-friendly and produce mobile apps that can compete.
U.S. downloads of map apps increased 11 percent in May from a year earlier, to 79.1 million, ranking them among the most used apps, according to data from market researcher ComScore. "Smartphones and the software are becoming so advanced that they're really changing consumer behavior in a profound way," says Andrew Lipsman, a ComScore analyst. "So categories that may have really grown a few years ago all of a sudden have a new competitor."
Most in-car navigation systems aren't Web-connected. They use GPS data to orient the car and plot a course with preloaded maps that can become dated. "If you want to update the maps in your car, it's an expensive and complicated process of having to go to the dealership," says John Canali, who tracks the navigation business for Strategy Analytics. Users of Internet-based Google Maps don't face that problem. Smartphone apps such as Scout and Navfree also pull data from the Web, and some add social networking: The 48 million users of Waze, bought by Google for $1.1 billion in June, report traffic jams or accidents so other users can switch routes. "The game has changed," says OnStar's Nixon, "and the bar has been raised by these always-connected devices that bring fresh information into the car."
In this year's annual survey by J.D. Power & Associates, 47 percent of car owners said they used a smartphone map app while driving last year, up from 37 percent a year earlier. Satisfaction fell among car owners with built-in navigation systems, with poor user experience the biggest complaint. "Many people view their smartphone as having better processing speed, better points of interest, and better map data," says Mike VanNieuwkyuk, J.D. Power's executive director of global automotive research. Forty-six percent of car owners with a built-in navigation system told J.D. Power they wouldn't buy one again if their smartphone app could play on a touchscreen in their dashboard.
GM's OnStar division now offers a $50 map app for iPhones that can run on the dashboard touchscreen of a $12,170 Chevy Spark. On July 16, Garmin updated its $50 mobile app, launched in 2011; TomTom has begun selling a similar app for $36, plus a $16 yearly fee. Both companies charge more for traffic updates and other premium features. On July 8, Garmin announced a $150 heads-up display that projects directions from a phone's screen onto a car's windshield. "We realize that there are customers that prefer to use their smartphone for navigation," says company spokesman Johan-Till Broer.
Conventional navigational device makers are confident they can keep drivers interested in built-in displays. IHS estimates that navigation systems will be installed in 32.7 million cars by 2019, when more than half of U.S. cars sold will carry them. Ford Motor consumer tech marketing manager Michelle Moody and Marios Zenios, vice president of Chrysler's Uconnect infotainment system, say built-ins still have advantages over phone-based navigation, notably a larger screen and a stronger GPS connection from a roof-mounted antenna. "The reality is, neither one is a perfect solution," says Moody. "Together, they might be a perfect solution."
That's why automakers are also trying to link up with upstarts like Waze. "We've had conversations with everyone," says Di-Ann Eisnor, head of Waze's U.S. business, adding that a Japanese company will include the app in one of its cars starting later this year. (She declined to name the brand.) With access to data from cars' internal systems, Eisnor says, Waze may one day be able to crowdsource rainstorm information when users turn on their windshield wipers. For now, though, price is the deciding factor, she says: "If you have a choice between paying a lot of money on an in-car nav system or a free app on your iPhone, which are you going to choose?"