Obama Isn't Benefiting From Rising Consumer Confidence
By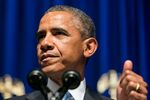 On the eve of a major economic address in Illinois, President Barack Obama finds his job-approval rating languishing even as consumers gain confidence in the health of the economy. That puts him in a tricky position: How to get credit for the economy's gradual revival without appearing to brag or acting as if the mission is accomplished?
Bloomberg's weekly Consumer Comfort Index has rebounded sharply since the beginning of 2012 and is right around its highest since early 2008. Gallup's U.S. Economic Confidence Index has also risen. But Americans don't seem to be crediting the president for the improvement. His job approval rating in the latest Gallup tracking poll was 48 percent, down from a 52-week high of 58 percent last December. A Bloomberg National Poll conducted between May 31 and June 3 found only 42 percent of respondents approved of the job Obama was doing on the economy, even though 49 percent approved of his job as president.
Obama isn't treating the speech on Wednesday at Knox College in Galesburg, Ill., as a way to build public enthusiasm. No, it will be yet another attempt to engender support for his stalled economic agenda. "And so I'm excited about the speech," he said at a dinner in Washington yesterday, "not because I think the speech is going to change any minds, but because it gives us an opportunity to refocus attention on the thing that the American people sent me to focus on."
Republicans are skeptical. As Bloomberg reported, aides to Senate Minority Leader Mitch McConnell of Kentucky sent out an e-mail with the subject line "Didn't he just do this a couple months ago?" that listed more than a dozen efforts by the president to focus on the economy since he took office in January 2009.
It could be worse for Obama. Gallup found that Americans are more likely to blame former President George W. Bush than the current president for the country's economic problems, even though Bush hasn't been in the Oval Office for nearly five years. In a poll released July 9, a hefty 69 percent of respondents blamed Bush a great deal or a moderate amount, while only 53 percent blamed Obama.
Before it's here, it's on the Bloomberg Terminal.
LEARN MORE