For Brazilians, What Will It Cost for a World Cup Game?
How the price of a game compares with the costs of basic goods and services in Brazil
By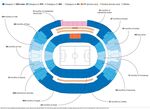 Over the past month, waves of protests have rattled Brazil over government spending on new stadiums for the 2014 FIFA World Cup, the most prestigious international soccer tournament. The cost could run as high as 30 billion reais ($13.5 billion). While millions of Brazilians are demanding better public services, such as transportation, others will be anxiously scrambling for tickets to futebol's biggest event. Using FIFA's seating chart, we compared the price of a ticket to a World Cup group-stage match (not including student, senior, or social program discounts) with the average cost of everyday essentials consumed by a Brazilian.
Before it's here, it's on the Bloomberg Terminal.
LEARN MORE