Billionaire Ma's Comment Fallout Shows Fine Line on Politics
Lulu Yilun Chen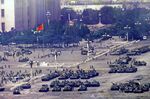 The fallout from comments attributed to Jack Ma about the 1989 Tiananmen Square crackdown highlights the balance business leaders need to strike in China between pleasing politicians and showing independence.
After the South China Morning Post newspaper quoted Ma as saying China's rulers made the "most correct decision" in their handling of the deadly June 4, 1989, protests, activists started an online petition calling for an apology. The billionaire's company, Alibaba Group Holding Ltd., disputed the accuracy of the report, which the newspaper said it stands by.
Alibaba, which some analysts estimate may be worth as much as $120 billion in an initial public offering, joins Carrefour SA and News Corp. in being criticized in China for involvement in sensitive political issues. Even mentioning the events at Tiananmen Square, in which hundreds of people were believed to have been killed, guaranteed a debate, said Mark Tanner, the founder of China Skinny, a Shanghai-based research agency.
"Everyone that comes to China doing business, lesson 101 is never mention Taiwan, Tiananmen or Tibet," Tanner said. "That pretty much applies to everyone, especially with the government having such a strong hold on business here."
News Corp., the media company controlled by billionaire Rupert Murdoch, faced backlash when its HarperCollins unit scrapped plans to publish a book by Chris Patten, the last governor of Hong Kong before its return to China in 1997. The company pulled the book on concern it criticized leaders in Beijing, the New York Times reported in 1998.
Hard Decisions
In May 2008, demonstrations were held in front of supermarkets operated by France's Carrefour after a protester campaigning for an independent Tibet jostled a wheelchair-bound Chinese athlete during the Paris relay of the Olympic torch ahead of the Summer Games in Beijing.
Taiwan has been ruled separately since Chiang Kai-shek's Kuomintang nationalists fled in 1949 after a civil war against Mao Zedong's Communist Party, which still considers the island a breakaway province.
Ma said leaders have to make hard decisions, such as China did in 1989 when it ordered the army to break up student-led protests in central Beijing, according to the Morning Post report. The Tiananmen Mothers group said at least 186 people were killed.
"This wasn't a perfect decision, but this was the most correct decision," according to a transcript the Hong Kong-based newspaper published July 13. "At any time, a leader must make a decision like this."
Words Omitted
Subsequently, Ma said his remarks triggered a misunderstanding and were made to describe difficult decisions taken when he was Alibaba's chief executive officer, according to a July 18 e-mailed statement from Florence Shih, an Alibaba spokeswoman in Hong Kong.
"Any company executive speaking at a public forum where there is foreign media needs to think twice before they speak about a sensitive subject," said Doug Young, author of the book "The Party Line: How the Media Dictates Public Opinion in Modern China." "Foreign media aren't afraid to quote about sensitive topics."
Some words were omitted from the Morning Post article on Ma, the Wall Street Journal reported on July 21, citing a recording of the interview it said was supplied by Alibaba.
'Quoted Inappropriately'
Ma was "quoted inappropriately," according to a statement on Alibaba's official microblog account on July 20. John Spelich, a spokesman for Alibaba in Hong Kong, declined to comment.
The South China Morning Post said it stood by its reporting, according to a July 20 statement.
The reporter on the story accessed the newspaper's editorial system and replaced an editor-approved article with an altered version in which Ma's reference to Tiananmen Square was removed, according to the Morning Post. The reporter resigned on July 19 ahead of a disciplinary inquiry, the company said.
Activists started an online petition and asked the billionaire to apologize for his comments after they were first reported.
Wen Yunchao, a petition organizer and a visiting scholar at Columbia University's Institute for the Study of Human Rights, said Ma is part of a growing trend in which Chinese entrepreneurs are openly expressing their loyalty to the Chinese Communist Party.
"We want to pressure these entrepreneurs and prevent them from continuing to do this," Wen said. "We also want other famous people to be aware of their historical, moral and social responsibilities when making public statements."
Before it's here, it's on the Bloomberg Terminal.
LEARN MORE