Kellogg Brings in Former Campbell CEO Doug Conant to Teach Leadership Skills
Elizabeth Rowe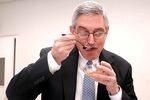 When Doug Conant became chief executive of Campbell Soup in 2001, the iconic brand was badly in need of reinvention. Condensed soups had fallen out of favor with customers, sales were down, and successful new products were nonexistent. Conant tossed 300 senior executives to the curb and overhauled everything from product lines, to advertising, to store displays.
Conant is bringing that leadership style to Northwestern University's Kellogg School of Management, where he'll head the new Kellogg Executive Leadership Institute. The institute will focus on preparing C-suite executives for the challenges of leadership roles in the 21st century. Conant, a Kellogg alumnus himself, will arrive on campus this fall and says the institute will be fully operational by 2014.
Kellogg Dean Sally Blount emphasized that the institute will be about "convening conversations" on such topics as workforce diversity, social media, and corporate governance, because leaders often don't have many places to turn for feedback.
"We hope to create new coursework around leadership, particularly leadership development at the highest level to take them from 'good to great,'" says Conant, a fan of Jim Collins's 2001 book of the same name about transformative change at mediocre companies. "It's a whole new world, and senior leaders want and need help in terms of improving their effectiveness."
Unlike MBA programs for students who will be CEOs in 20 years, the institute will focus on equipping today's leaders with the skills they'll need to continue to be successful.v"I'm an old dog," Conant says, "and old dogs have to learn new tricks to be effective in today's environment."
Join the discussion on the Bloomberg Businessweek Business School Forum, visit us on Facebook, and follow @BWbschools on Twitter.
Before it's here, it's on the Bloomberg Terminal.
LEARN MORE