Schaeuble Bears $132 Million in Greek Credit After Job Vote
Rainer Buergin and Tom Stoukas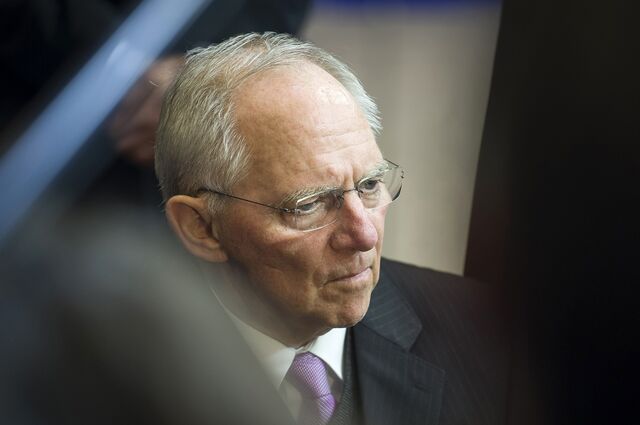 German Finance Minister Wolfgang Schaeuble arrived in Athens with a promise of 100 million euros ($132 million) of loans for Greek companies hours after the recession-wracked country's lawmakers approved a new round of public-sector job cuts.
Authorities banned gatherings and marches in much of central Athens and along the route from the airport. About 4,000 police are on duty during his visit, said a police spokesman, who asked not to be identified in line with policy. The normally bustling Syntagma Square was empty after police cordoned off streets and closed the metro station.
The Greek Parliament in a midnight vote passed a bill that puts 25,000 public employees on notice for possible dismissal, a step demanded by creditors to release the country's next installment of loans from a 240-billion bailout package.
"An unprecedented effort is now under way to reconstitute our country's economy and state," Finance Minister Yannis Stournaras, who will meet Schaeuble, told lawmakers during the debate. "I'm totally confident that the road we're following is the right one. The effort is yielding results."
With his coalition reduced and Greece stuck in its sixth year of recession, Prime Minister Antonis Samaras pushed the job cuts over public protests amid record unemployment of 27 percent.
In his first trip to Greece since the euro financial crisis began in 2009, Schaeuble will also resist a push by his hosts for relief from a mountain of public debt.
Public Debt
Greece's public debt is expected to peak at 175.6 percent of gross domestic product this year and drop below 120 percent of GDP by 2021 "assuming that Greece continues to strongly implement the program," international monitors said in their latest report on the debt-stricken country.
They said uncertainty about Greek debt sustainability has increased after the government stumbled in selling state-owned enterprises, the monitors said.
Greek shares rose for a third day with the Athens Stock Exchange index up 1 percent at 11:51 a.m. in Athens. The yield on government's benchmark 10-year bond fell 12 basis points to 10.27 percent.
In an attempt to boost an economy that has shrunk by more than a quarter since 2008, Schaeuble's support will come in the form of loans to small and medium-sized Greek businesses through state-owned lender KfW Group, a German government official told reporters yesterday.
Concessions Unlikely
Samaras's government has said its aim is for creditors to forgive some of the 318 billion euros Greece owes mostly to euro-region taxpayers and the International Monetary Fund. With Chancellor Angela Merkel seeking a third term at Sept. 22 elections, Schaeuble won't offer Greece further concessions. His mission is rather to encourage the Samaras government and express support, the German official said.
Stournaras said in an interview with Athens-based Imerisia newspaper published July 13 that Greece's European partners will consider ways to cut its debt once a primary budget surplus has been achieved. Schaeuble's intention is to express confidence in Greek resolve to implement the economic reforms it has pledged to tackle, the German official said.
After the biggest-ever sovereign restructuring last year, "I don't think we will do another debt writedown" in Greece, Schaeuble told Germany's ARD television.
Schaeuble is due to meet with Samaras and Development and Competitiveness Minister Kostis Hatzidakis in addition to Stournaras, as well as with members of the German-Greek trade chambers. A press conference with Stournaras is scheduled for 6:15 p.m. Athens time.
U.S. Treasury Secretary Jacob Lew is due to visit Athens on July 21.
Before it's here, it's on the Bloomberg Terminal.
LEARN MORE