MLB's Bud Selig Proudly Joins the Executive No-E-mail Crowd
by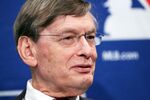 When he wasn't gabbing on the talk-show circuit this week about alleged PED user Alex Rodriguez, Major League Baseball Commissioner Bud Selig dropped a small bombshell with a reporter for SportsBusiness Journal. Selig, a 78-year-old former car dealer and owner of the Milwaukee Brewers, said he's never used e-mail. And it wasn't an admission—it was more a declaration. He said he "never will."
It's true that there's something endearing about old duffers who thumb their noses at newfangled modern technologies. Who can blame historian David McCullough, after winning two Pulitzer Prizes, for continuing to clunk away on a typewriter in a small, unheated shed in the woods? But it does seem odd that Selig, the chief executive of a massive sports body with such a sprawling bureaucracy, would forgo a simple Outlook account.
But rolling sans e-mail is more common than you may think, and Selig joins an illustrious cast of successful executives who have redefined "in-box zero." Here are five of them:
Janet Napolitano
Age: 55
In March, the secretary of the Department of Homeland Security said she never uses e-mail—ever. "I think e-mail just sucks up time," she told reporters at an event hosted by the Christian Science Monitor. "I stopped using e-mail when I was attorney general of Arizona. I was like, 'Why am I spending my time scrolling through this?'" In other news, she announced last week that she's stepping down from her post to become president of the University of California system.
Sheldon Adelson
Age: 79
In 2011, the majority shareholder of Las Vegas Sands and the 19th-richest person in the world—with a net worth of $26.5 billion, according to the Bloomberg Billionaires Index—told an investment conference: "I don't have a computer. And I don't use e-mails." In an interview with Casino Enterprise Management, he said, "I have a great person who knows the computer and she reads every single thing that I read. She takes dictation from me the old-fashioned way, and that's the only way I like to dictate."
Brad Kelley
Age: 55
Kelley is an intensely private billionaire who built his fortune selling discount cigarettes and is now one of the biggest landowners in the U.S. with more than a million acres. He resides in Kentucky. Earlier this year, the company NC2 Media, for which Kelley is a primary shareholder, purchased Lonely Planet from the BBC for $77 million. According to the U.K.'s Daily Mail, "Mr. Kelley is notoriously reclusive and hard to get a hold of. He does not use e-mail and he rarely returns phone calls." Furthermore: "You don't call Brad Kelley," Greg Betterton, a Florida-based attorney, told the Wall Street Journal. "He calls you."
Hank Paulson
Age: 67
According to a 2009 article in the New Yorker, the former secretary of the Treasury and CEO of Goldman Sachs "doesn't use e-mail and tends to ask rapid-fire questions." (He's then quoted saying, "I didn't get the charm gene.") Paulson's preferred method of communication was to return every message by phone.
Russ Gerdin
Age at death: 70
The billionaire trucking magnate and CEO of Heartland Express, who died in 2011, refused to embrace e-mail until the very end. According to a 2009 profile in Portfolio: "Gerdin is old-school. … He runs the company using reports, handed to him weekly, printed on old-fashioned continuous-feed computer paper, with columns of numbers showing how each truck, each customer, and each load … is performing. When he sees something appalling, he lumbers over to the company's sales desk, or to its dispatchers, and chews someone out."
Before it's here, it's on the Bloomberg Terminal.
LEARN MORE