The Most Expensive Seats in College Football
The five most expensive college football tickets
By and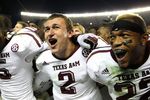 The start of the college football season is more than a month away, yet the ticket market is already hopping, with seats at more than a dozen games fetching more than $1,000. Bloomberg Businessweek asked ticket search engine SeatGeek to sort out the most expensive seats at the most in-demand games for the upcoming season. Herewith, the NCAA's hottest tickets, ranked by price fetched to filter out the overly bullish sellers (and limited to one seat per game).
University of Alabama at Texas A&M, Sept. 14
Seat: Field level sideline, section 105, row 27
Price: $2,500
Game average: $604.15
Because: Last November, the Aggies visited Alabama for the first time and upset the top-ranked Crimson Tide 29-24 on the strength of two touchdowns and 253 passing yards by freshman quarterback sensation Johnny "Football" Manziel. It was Alabama's only loss; the team went on to trounce Notre Dame for a second straight national championship. The Tide, and their maniacal faithful, come looking for revenge.
LSU at TCU (Cowboys Stadium), Aug. 31
Seat: Club Hall of Fame level, section 133, row 19
Price: $2,490
Game average: $492.27
Because: The tentacles of the Southeastern Conference are spreading farther into Texas. The season opener, named the Cowboy's Classic and played at JerryWorld in Arlington, carries promise for all Texas Christian University diehards, as the team gets a chance to begin its season by knocking off one of the SEC's toughest. (The Fort Worth university will receive a record $3 million for the game.) Louisiana State is looking to come back strong after a troubling 2012, which was defined by a three-game skid and a loss to Clemson in the Chick-fil-A Bowl.
UCLA at USC, Nov. 30
Seat: Lower Premium, section 22, row 4
Price: $1,580
Game average: $250.26
Because: For the first time in eons, the favorite of these two Pac-12 teams appears to be UCLA. Last year, his first with the Bruins, head coach Jim Mora managed nine wins and attracted a stellar recruiting class. Across town, Lane Kiffin's woes continue: The Trojans posted an ugly 7-6 record last year after being ranked No. 1 in the preseason. But a lot of their talent is returning, and some football insiders are calling them a sleeper.
ASU at Notre Dame (Cowboys Stadium), Oct. 5
Seat: Club Hall of Fame, section 134, row 20
Price: $1,545
Game Average: $438.15
Because: It's not really "at" Notre Dame. The game, at Cowboys Stadium in Arlington, is part of the "Shamrock Series," Notre Dame's ongoing national charm offensive in which they host regular-season "home" games in different parts of the country. (In previous seasons, they played games in Washington, D.C., San Antonio, and New York.) Arizona State, coming off its first bowl win in seven years, has high hopes for 2013 and believes that its powerful backfield can lead it to a Pac-12 championship.
USC at Notre Dame, Oct. 19
Seat: Lower Level Sideline, section 9, row 29
Price: $1,265
Game average: $564.03
Because: It's one of the highest-profile rivalries in the sport, between two schools that share 22 national championships between them.
And eight more games with four-figure seats:
South Carolina at Georgia, Sept. 7
Seat: Section 106, row 15
Price: $1,250
Game average: $325.75
Oklahoma at Notre Dame, Sept. 28
Seat: Lower level sideline, section 27, row 57
Price: $1,210
Game average: $542.50
LSU at Alabama, Nov. 9
Seat: Lower level, section G, row 54
Price: $1,206
Game average: $481.94
Michigan State at Notre Dame, Sept. 21
Seat: Lower Level Sideline, section 27, row 42
Price: $1,073
Game average: $364.40
Oklahoma at Texas, Oct. 12
Seat: Lower sideline, section 7, row 45
Price: $1,001
Game average: $432.32
Texas A&M at LSU, Nov. 23
Seat: West 103
Price: $1,000
Game average: $439.45
Notre Dame at Michigan, Sept. 7
Seat: Sideline, section 23
Price: $1,000
Game average: $438.32
Florida at LSU, Oct. 12
Seat: West 103
Price: $1,000
Game average: $327.26