pursuits
Juicy Couture Founders Wonder: Does the Tracksuit Still Fit?
By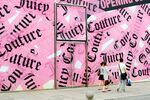 The pair of fashionistas who founded Juicy Couture and sold it to Fifth & Pacific are shopping for their old company, according to Women's Wear Daily.
Pamela Skaist-Levy and Gela Nash-Taylor are reportedly searching for an investor to back their bid, as Fifth & Pacific looks to spin off the struggling brand to focus on its darling, Kate Spade. Fifth & Pacific did not return phone calls this afternoon. Likewise, the two entrepreneurs behind the velour empire could not be reached for comment, but a Twitter account promoting their new fashion line posted a link to the WWD story.
There are two big questions: Can the duo round up enough money, and do they still have their design mojo?
Skaist-Levy and Nash-Taylor started the Juicy brand back in 1996, but the line really took off in 2001 when they designed a tracksuit for Madonna. When the duo flipped it to Fifth & Pacific in 2003 for about $226 million, it was still exclusively a wholesale business. Recently, Juicy Couture has lost its luster, but it's still likely to have a higher sticker price than what Fifth & Pacific paid for it a decade ago. Last year it brought in $500 million in revenue from its wholesale customers and 135 Juicy stores.
Although it's too early to tell if the seminal Juicy entrepreneurs can raise the cash—they're currently making the rounds to private equity firms, according to WWD—they do appear well-equipped to take on the design challenge. The pair's recent line, Skaist-Taylor, which they describe as "autobiographical California eccentric," has garnered praise from the fashion press in its two years on the runway.
"If anyone can turn the brand around and give it back its energy, they can," Gary Wassner, co-ceo of Hilldun, told Women's Wear Daily. "They know who they are designing for. The product never evolved once they left the company."
Before it's here, it's on the Bloomberg Terminal.
LEARN MORE