Hidden Hand: Mike Franc, the GOP Whip's Whip
By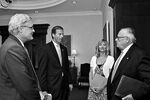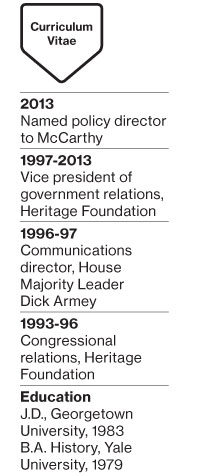 The job of a House whip seems simple: tally votes before party leaders send a bill to the floor so there aren't any surprises. Mike Franc is the GOP whip's whip, getting members to fall in line and give his boss the votes needed to prevail (imagine a polite version of Doug Stamper in House of Cards). It's not such a simple job right now. Conservatives are rebelling against party leaders as they face big decisions on immigration, the debt ceiling, and the budget.
Republican Whip Kevin McCarthy hired Franc in June to win over the conservatives he warmed up to during nearly two decades at the Heritage Foundation. The think tank known for promoting conservative policies organizes "orientation" sessions for freshmen House members and regular policy retreats. Franc ran them and has kept close ties with lawmakers. He can easily spend a happy hour chewing over the ideas of conservative economists like Friedrich Hayek and Milton Friedman, says Patrick McHenry, a North Carolina Republican. (Franc's seriously wonky side is one reason he and former vice presidential candidate Paul Ryan are pals.) Oklahoma Republican Tom Cole, who's known Franc for more than a decade and bonds with him over cigars, says he'll be a "good emissary" to members on the right: "Very shrewd move by the whip." As McHenry puts it: "He's charming as hell."
Before it's here, it's on the Bloomberg Terminal.
LEARN MORE