Why That Crashed Asiana Plane Is Still on the Runway
by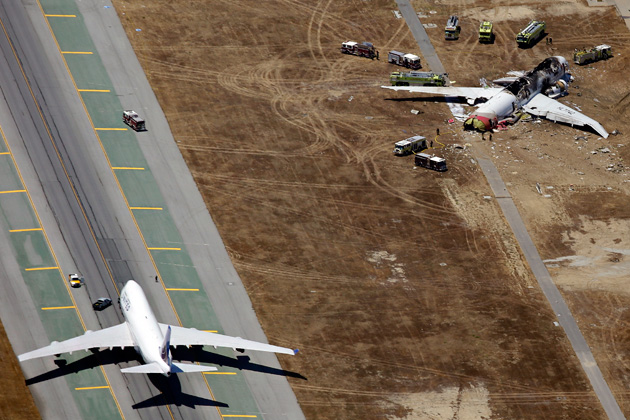 Federal investigators plan to move the mangled remains of an Asiana jumbo jet in the next day or two, clearing an unwelcome reminder of the perils of air travel that has greeted passengers flying in and out of the San Francisco International Airport for the past five days.
National Transportation Safety Board investigators are determining which parts of the Boeing 777 need to be transferred to the agency's laboratory in Washington and will then release the rest of the airplane for removal, NTSB spokesman Keith Holloway said today. He said the plane would likely to be moved by the weekend. The crash of Asiana Flight 214 on July 6 killed two Chinese women and left more than four dozen with serious injuries, although scores of passengers escaped the crash unscathed.
Airport officials are understandably eager to see the charred airplane moved. "We would like to get it moved out of the area because obviously we're sensitive to the fact that passengers on other flights are taxiing right by it," says airport spokesman Doug Yakel. Some of those passengers have taken to Twitter to describe just how eerie it has been to see the Asiana wreck while looking out an airplane window:
Even when the airplane is removed, however, the runway on which it was attempting to land—28 Left—will remain closed for a week or more, pending repairs to the rocky seawall on San Francisco Bay that was damaged in the Asiana flight's low approach. The airport and federal aviation regulators will also need to inspect the 11,381-foot runway (pdf) closely for other damage sustained in the crash and fix the runway's precision approach path indicator (PAPI), a vertical landing aid that was destroyed in the incident. The airport is hoping to have 28L open "within a matter of days or weeks rather than a month," Yakel says. The closure has caused arrival delays of more than two hours for some flights, according to the Federal Aviation Administration.
A spokeswoman for United, the largest airline operator at SFO, declined to comment on airport operations after the crash. Virgin America, which uses San Francisco as its hub airport, did not return an e-mail seeking comment.
Before it's here, it's on the Bloomberg Terminal.
LEARN MORE