Five Broadway Lessons for Fixing Office Life
by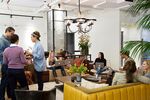 Architect and designer David Rockwell is renowned for three decades of work across industries ranging from the hospitality business (including Cosmopolitan of Las Vegas Hotel, W Hotels, and Nobu) to the theater (including set designs for recent Tony Award-winning productions Kinky Boots and Lucky Guy). His latest project will open this month: Neuehouse, a shared working space located in a fully restored, century-old building in Manhattan. Marketed as a "private-membership work collective" for "solopreneurs," Neuehouse spans 35,000 square feet over five floors and is intended for workers in such fields as fashion, design, technology, and publishing.
Rockwell says that his work in theater influenced the designs for Neuehouse, from the lighting down to the moveable walls. In the spirit of boosting productivity, Bloomberg Businessweek asked the architect for tips that regular, boring offices might glean from the Great White Way.
Your office is a set, your clients are an audience. Use sliding walls and partitions, just like set pieces, to your advantage. "Workspaces need to be flexible, particularly if you're talking about creative incubator spaces," Rockwell says. "Also, if you're going to have, say, an important client meeting, you can literally set the scene. You could use your office as a kind of theater or stage. We realized that early on, when we were doing McCann Erikson's offices a long time ago and created these black box theater spaces because when they were doing presentations for clients, they needed things that could change and move."
Dim the house lights. Lighting is everything, but just like on Broadway, too much brightness is your enemy. "I think the idea of working at a bright fluorescent office is kind of an old Blade Runner analogy—it's not how people want to work," he says. "In the lab space of our office, the high-techest space, they want the least amount of light. It adds mood and drama. It emphasizes the texture. It also has to do with not wanting to compete with computer glare."
Create a foyer. You need to create "rivers of activity" in an office space for those routine intermissions during the workday. "Widen the hallways and put a reward at the end of the them," he says. "You want a destination; in choreography, there is always movement toward something. I think hallways want to move towards a destination. If you want to encourage free movement in an office, have some kind of landmark. Traditionally it was a water cooler, or it could be a clock. But now it can be just a conference room."
Put your ensemble cast in the same scene. Actors need a place to mingle and collaborate, so include places where people can mingle away from their desks. "Like open rehearsal spaces, create places in your office for accidental encounters," he says. "Theater is very, very collaborative. You're listening to a lighting designer, costume designer, choreographer, the technical director, the director, and everyone is trying to tell the same story."
Make every day feel like opening night. Make your employees happy to be there; entertain them and consider pampering them. "Surprising your employees makes their time in the office meaningful," he says. "Mix it up a little bit, so it's not always the same every day. At Neuhaus, we have a food program in that the canteen will operate four custom food carts. Mobile versions of the canteen will circulate through all the upper floors and are made from found pieces. They're kind of amazing-looking things. Each time they come out during the day, they'll serve something else."
Before it's here, it's on the Bloomberg Terminal.
LEARN MORE