When Is the Right Time to Trademark Your Company's Name?
By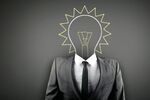 Question: Should I trademark my name and logo before forming my LLC? I want to start selling products now, but I am afraid my name might get taken.
Answer: Your trademark is not the same thing as your company name or its logo. A trademark is a "designation of origin; i.e. a brand that signifies source of the service or product and its quality and good will," attorney Terence N. Church, of Bay Area law firm Brown, Church & Gee, writes in an e-mail.
In the United States, common law trademark rights arise on first use within a product category or geographic market. (Trademark law has not changed recently; there have been major changes to U.S. patent law however, as M-Cam Chairman David Martin explained on Bloomberg TV in March.)
This means that if you start selling products under your preferred trademark now, you can claim ownership of that trademark without formally registering it with the U.S. Patent and Trademark Office. Protect your trademark by using the designation "TM" after it; you will use an "R" in a circle after the mark is registered.
It's a good idea to get your trademark registered, however, because common law rights are limited to the geographic location in which the mark is used and because registration will help you in case of legal challenges. Also, if you begin selling products before you have done the comprehensive search that accompanies trademark registration—to ensure you aren't infringing on another company's mark—you could be exposed to significant legal risk, says Alex Montagu of intellectual property law firm MontaguLaw in New York.
In terms of timing, you can pursue forming your limited liability company and registering your trademark simultaneously. Forming an LLC is a relatively quick and easy process for which many online services can help, although it's smart to get legal advice. If you are not quite ready to sell your products, you could file an "intent-to-use" trademark application and the registration would issue once you began selling.
You can file a trademark application for a filing fee as low as $325 directly with the U.S. Patent and Trademark Office, or use an online service such as LegalZoom or Trademarkia that charges a small amount, in addition to the federal filing fees.
However, it is nearly always better to hire an attorney to handle your trademarks and other intellectual property, says Vijay Toke, co-managing partner of Bay Area intellectual property law firm Hiaring + Smith. He says he knows such advice is self-serving, but cites a University of North Carolina School of Law study, released in April, to back his assertion. The study, which analyzed 25 years' worth of USPTO data, shows that applicants who retained an attorney were 50 percent more likely to get their trademarks approved than were those who applied without legal representation.
"I hear from a lot of startups who are going to do it on their own. Then, three to six months later, they call me back and say they tried and their application was refused. Now we have to respond to a refusal from the USPTO and it costs significantly more," Toke says. "It also depends on the kind of business you are in. If you make something very straightforward, like wrenches, there aren't too many ways to describe your goods. But if you're a medical device manufacturer or a pharmaceutical company or a software startup, there's often a lot more nuance to how you describe your product or service that will enhance your chances of getting your registration through."
He says his firm offers "middle of the pack" pricing. It charges from $1,100 to $2,000 in legal fees per class for each trademark filing (excluding government filing fees) and $500 to $750 to do a preliminary legal trademark search and develop a report for its clients. A more comprehensive search and report, which large brands typically require, costs around $2,000, he says.